There's no easy way around it, so let's get straight to the point: right now, the global supply chain is a complete and total mess.
Rapidly depleting stocks during the holiday season are not a new phenomenon. Each year, there are always several "must-have" items that simply fly off the shelves as we approach gift-giving. But today we are not talking about a limited-edition LEGO set. The shortages affect just about everything. 
The current supply chain crisis caused as a result of the COVID-19 pandemic has challenged online shops to rethink the way they work with vendors, manage inventory, and adjust their product offerings. Any disruption linked to provision and shipping may lead to permanent customer losses, which is the exact opposite direction any business would naturally pursue.
The media is scattered with news and stories regarding supply chain issues, encouraging shoppers to start their holiday shopping as quickly as possible, while there's still something on the digital and physical racks. Demand is sky-high and consumer confidence is picking back up. Still, the upcoming holiday season can easily turn this supply chain crisis into a full-on shopping nightmare unless businesses do something about it.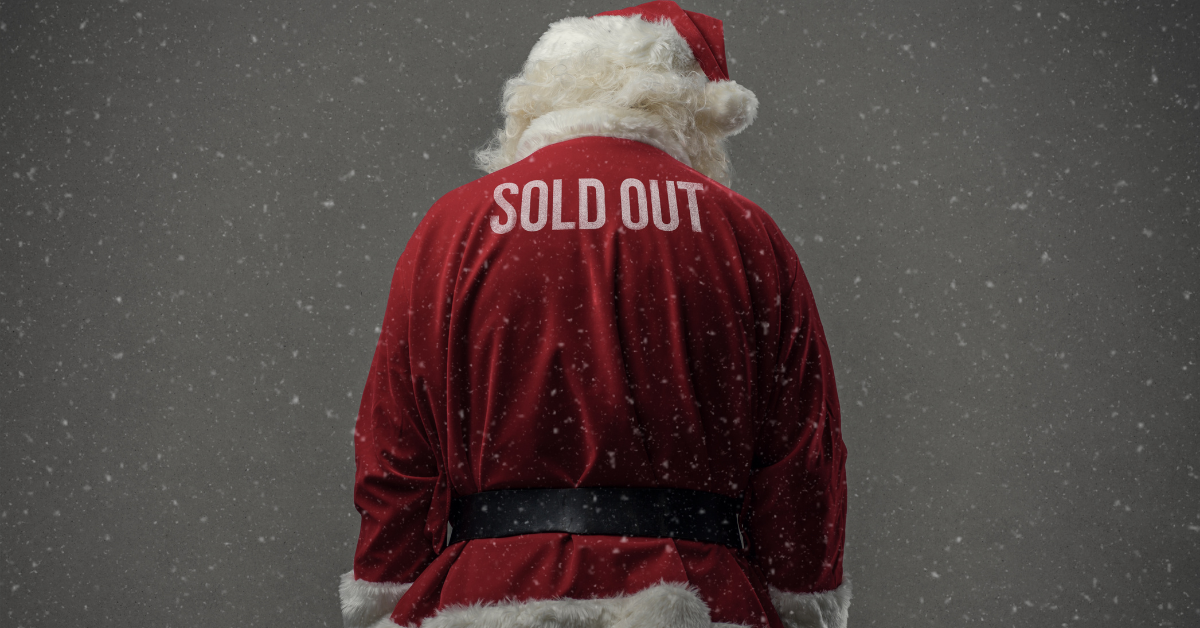 Besides ordering more inventory from existing suppliers, seeking new vendors, and closely monitoring deliveries, online shops need to also adapt their approach to marketing. Even if certain key products are unavailable, pausing your campaigns or cutting your ad spend is not the solution. On the contrary. Brand-centered advertising is about bringing customers closer, thus preserving and increasing future sales, regardless of the present situation.
So let's dive in and discover which marketing tricks you can use to pass the crisis with flying colors! 
Shift the focus on to the items available
As previously mentioned, advertising during a crisis is pivotal to the success of a business. But luring customers with out-of-stock products will lead to nothing more but disappointment and frustration. Retargeting allows you to edit the products featured in a specific campaign in just a few clicks. Here's how:
Google Ads
If you're looking to attract new traffic and drive sales using Google campaigns, you can filter the products highlighted in your ads by category or custom product set, taking into account your inventory levels. This feature is available for Category Dynamic Search Ads, Smart Shopping, Category Smart Shopping, as well as Custom campaigns.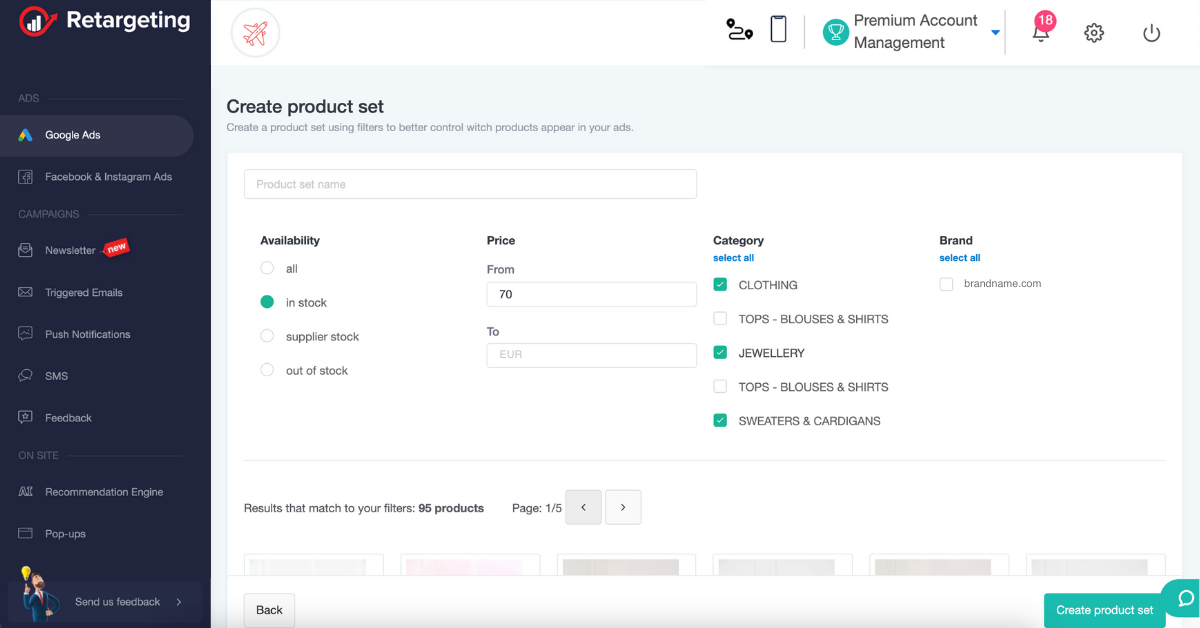 Recommendation Engine
In order to convey a pleasant shopping experience, don't overwhelm your customers with endless buying options, especially if certain items are not available. Include personalized product recommendations across the pages of your website to make sure you're displaying the right product to the right customer at the right time. Go to the Settings of your widget of choice and enable the filtering of products by inventory level. Your conversion rate will visibly improve while your customers will feel understood and cared for, which is the first step towards adamant loyalty.
Pop-ups 
What better way to catch your visitors' attention than with the hand of a pop-up? Although these wonderful virtual salespeople can provide product recommendations based on each user's preferences and purchase history, sometimes the ideal product for someone happens to be exactly the product you don't have in stock. 
Whether you're using the Product Recommender, Exit Intent, or Cross-sell pop-up, as long as you're choosing a product-centered layout, you can customize which items will be displayed. Go to the Product section of the pop-up editor, set the product source to Custom, determine the number of products (up to 3), and type below the name of the available products you'd like to recommend.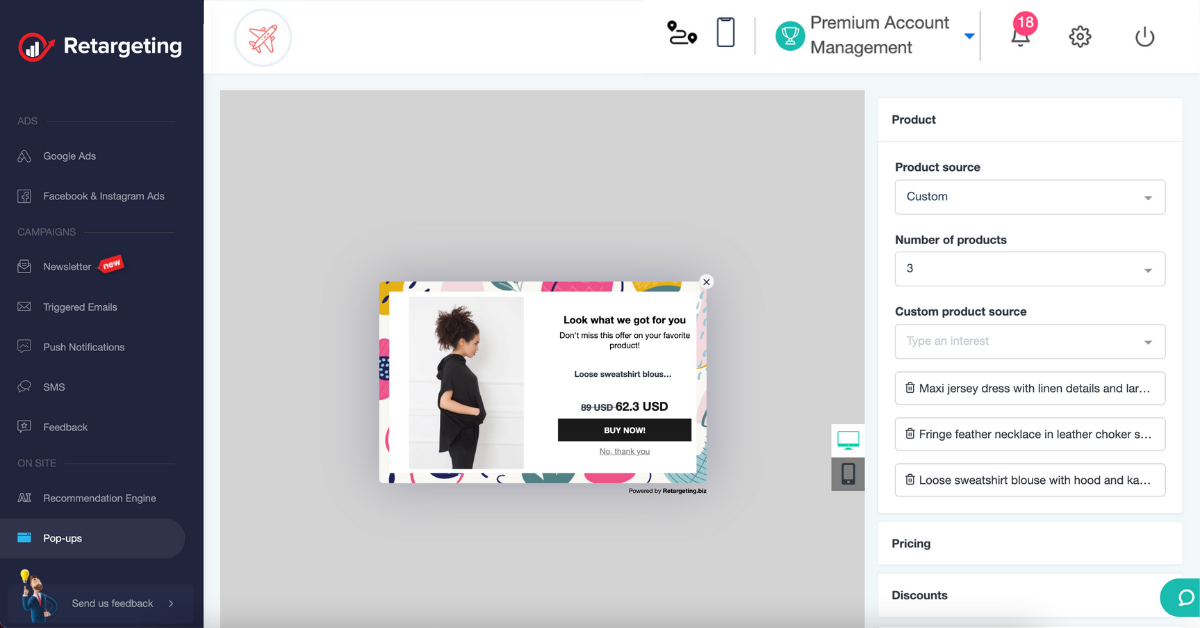 Think bundles instead of discounts 
Yes, everyone gets increasingly irritated by how the holiday season appears to start earlier and earlier every year with fewer significant offers making their way into the world. But the supply chain crisis leaves no other option. As margins start being affected, online retailers can no longer offer extensive price discounts. Therefore, promoting bundles and complementary purchases can be a great alternative. Customers will perceive the product packages as being of higher value and your Average Order Value will increase. 
Keep up with shopper preferences
People's tastes are among the most variable and subjective matters marketers must address on a regular basis. Everyone likes different things and the same person can alter his or her preferences in time.   
Understanding shoppers' behavior requires tremendous amounts of data, as well as complex technologies that can predict, plan, and optimize campaign performance in line with individual customers' needs and wants.
From personalized newsletters to on-site product recommendations and behavioral pop-ups, you can effortlessly stay on top of individual shifts in preferences boost your profitability using AI-enhanced Retargeting features. 
Set your smart widgets to filter the products by inventory level (as explained above) and start adding them to your newsletter campaigns. Your subscribers will be pleasantly surprised and will think your brand is reading their minds.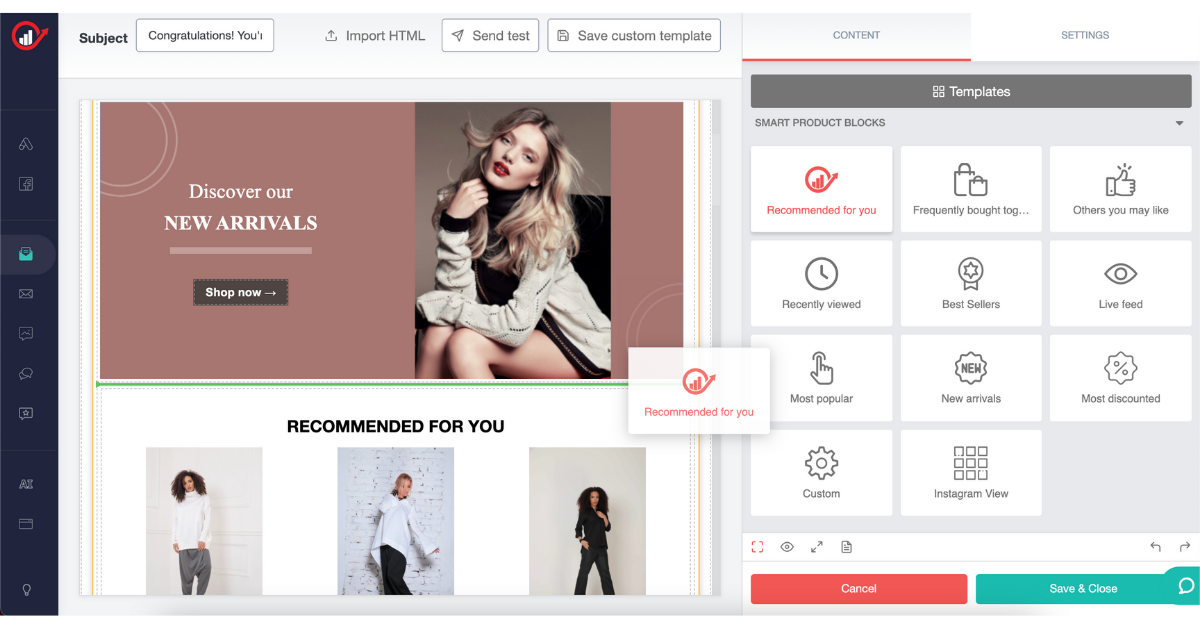 Communicate proactively
Who doesn't just hate waiting? Now, who doesn't hate waiting for the light blue hoodie, which you've ordered over a month ago to finally arrive? (Ok, maybe you'll resonate less with the latter statement, but you get the point).
Everyone is aware that supply chain issues translate into shipping delays, therefore be proactive in telling your customers about the status of their orders. A brand needs to be transparent and manage its customers' expectations, not lower them. For this, you can use email, SMS, or push notification campaigns to let your subscribers know when the items will get to them or be back in stock. And if you're gonna be sending them such updates, why not try to get their minds off and tempt them with hand-picked in-stock items ready to be delivered the next day? Just add the links to the products and opt for auto-generated texts if you've lost your way with words. Your clients will appreciate the approach and may even give in and ramp up your sales.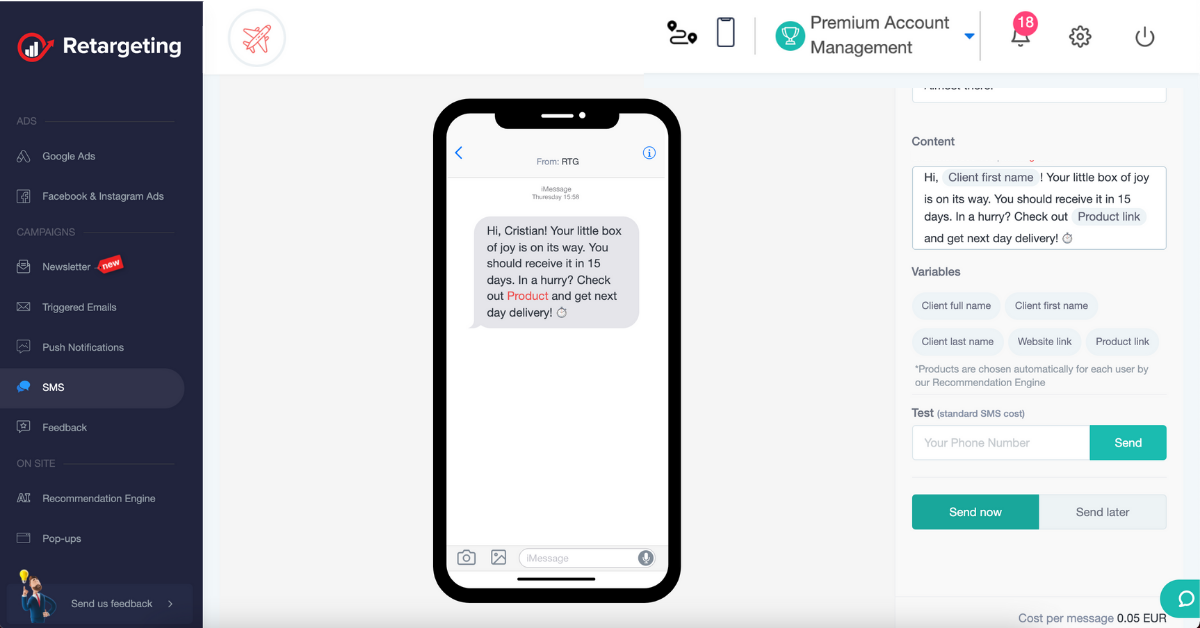 In a nutshell
The global logistics and supply chain scene is in a dire state, shaking e-commerce to the core. Most online shops are now learning a tough risk management lesson while struggling to keep up with the increasing demand preceding the holiday season. Nevertheless, there are several marketing tricks businesses can implement in order to make the most of their inventory. Product filtering, content personalization, as well as bundle discounts help increase profitability by enhancing customer loyalty while simultaneously reducing the intensity of promotional competition at a time when margins are growing thinner and thinner.