Ask any successful e-tailer what the ace up their sleeve is and you'll probably get the same answer: make your customers feel special. Once a practice associated with luxury goods and services, personalization is nowadays a new standard. E-shops strive to differentiate themselves and make their online customers feel like royalty. And the results are tantalizing.  
61% of the businesses that offer personalization saw their profitability increase, 58% recorded more online traffic, and 55% improved their customer loyalty. Similarly, 86% of consumers claim that personalization influences their purchase decisions, with 45% of them preferring shopping on a website where they can experience this kind of technology. 
But before you jump to conclusions thinking this article will elaborate on the benefits of calling your customers by their names or using personalization tags, let's first understand what e-commerce personalization truly means.
In the e-commerce universe, personalization refers to providing individualized product recommendations, offers, and other types of content to each and every user, based on their personal data, demographics, and previous behavior. 
To put it differently, personalization helps you create unique shopping experiences for each client in real time. For your newsletters, this means that every subscriber will receive a slightly different version of the same email, depending on his or her age, gender, location, preferences, browsing behavior, previous purchases, etc.
Wonderful, yet complex
By now, you must probably think of personalized newsletters as the Holy Grail of e-commerce, but there's more to them than meets the eye. Implementing such a technology can be challenging. At the end of the day, it all comes down to complex algorithms, overwhelming amounts of data, and statistics. Results must be accurate and available in real time, and you should always have a back-up plan in case the data you need is unavailable.  
Finding the right solution
Email marketing platforms, such as Mailchimp or SendinBlue, are commonly used for newsletters. But when it comes to integrating personalized product recommendations, they may not be everyone's cup of tea. If you need a platform that allows you to create fully personalized newsletters in just a few clicks, you may want to consider Retargeting Biz. All in all, here's a checklist of the key criteria you should bear in mind when deciding what solution best fits your business:
Segmentation capabilities
From automated segment discovery to one-on-one targeting, you will need to understand what your niche segments are and how to appeal to them. The better you isolate each subscriber's individual behavior, the more conversions your newsletters will generate.
Cross-device support
People check their emails on their phones, on desktops, or using dedicated apps. So make sure the content of your newsletters is adapted to each channel or device for a better user experience.
Layout personalization
Even if you have an in-house team, designing eye-catching newsletters on a regular basis can be very time-consuming. Opt for a solution that simplifies the creative process as much as possible. Stay on the lookout for templates and drag-and-drop editors to get the work done in just a few clicks. 
Automation possibilities & manual control
Determining the right strategy for your newsletter campaigns requires flexibility, so you should choose a platform that enables you to make both manual and automated adjustments. A/B testing, optimal sending times, and product recommendations should rely on algorithms that can optimize your campaigns at scale. At the same time, you should be able to leverage your expertise and intervene manually when needed.  
Personalized newsletters in action
As previously mentioned, Retargeting Biz is one of the platforms now available on the market that supports fully personalized newsletters. Let's have a look and see how it's done!
Selecting your segment
Using Retargeting Biz, the first step in the newsletter creation process is choosing who to direct your messages to. There is an array of predefined segments, such as buyers, non-buyers, active, etc. But you can also customize your own audience segments to perfectly fit your business strategy.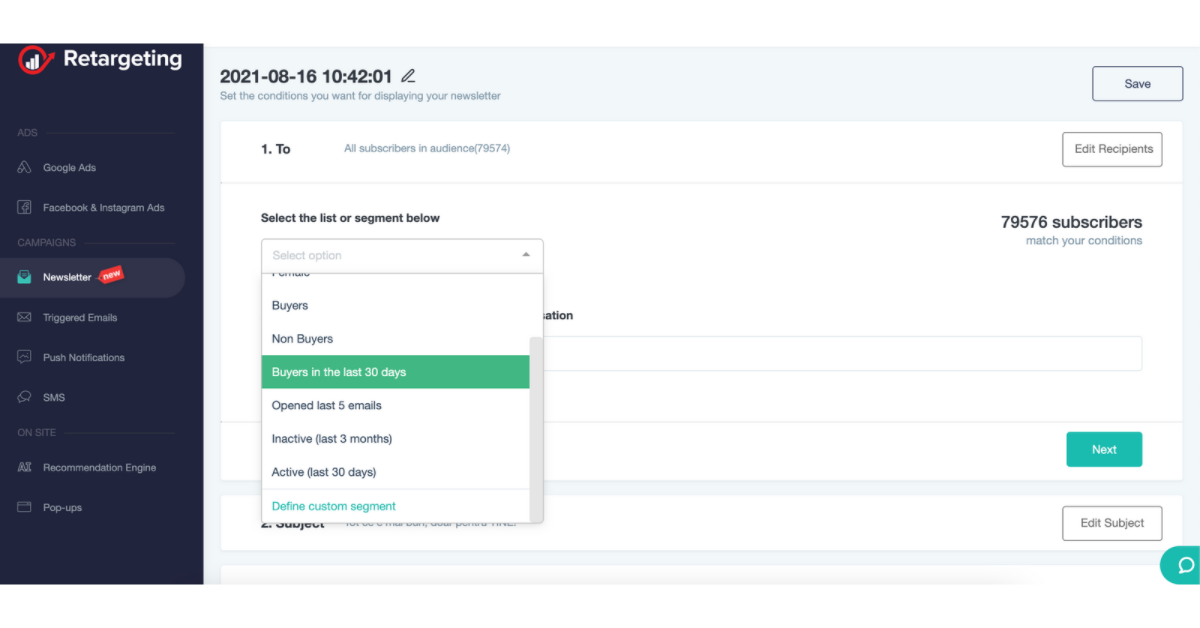 Subject
The subject line can make or break the success of a campaign. The auto-generated content feature gives you instant access to engaging, witty suggestions that you can edit to your liking. Lastly, the tips and performance information available in this section ultimately make the decision process much faster.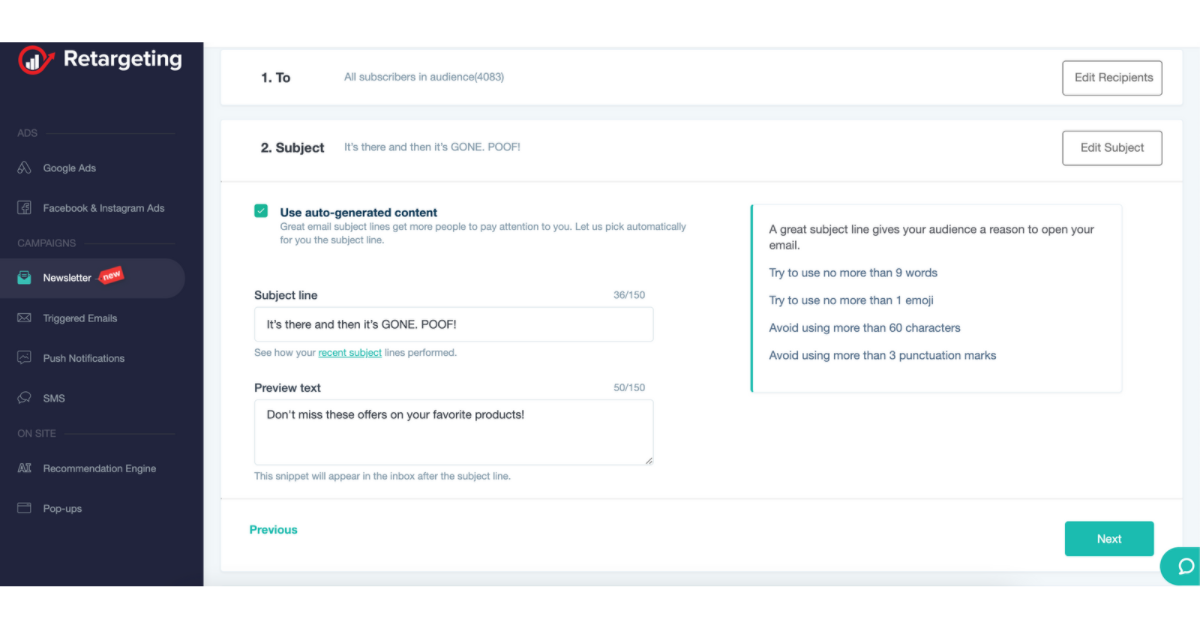 Content
Unless you want to design your newsletter from scratch, you can choose one of the predefined newsletter templates available on the platform. Customize it by dragging and dropping all your wanted features, such as texts, photos, videos, links, banners, etc. 
Widget time
Remember how personalization technology is generally difficult to implement? Well, Retargeting Biz managed to make it as easy as dragging and dropping a few smart content blocks. 
Choose what kind of products to display in your newsletter using an array of 8 AI-based recommendation widgets (Recommended for you, Frequently bought together, Other you may like, Recently viewed, Bestsellers, Live Feed, Most popular, and New arrivals). Alternatively, make your own product selection and present it in an Instagram-like layout.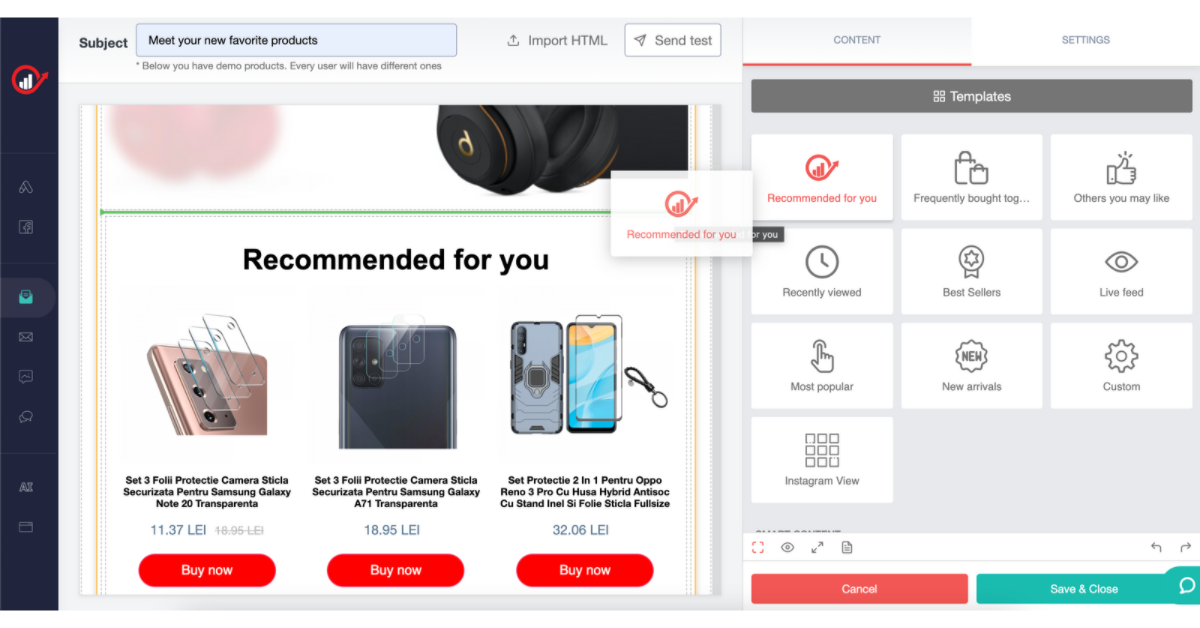 Dynamic elements
Make your newsletters stand out and add engaging smart content, such as banners, countdowns, discounts, GIFs, stickers, etc.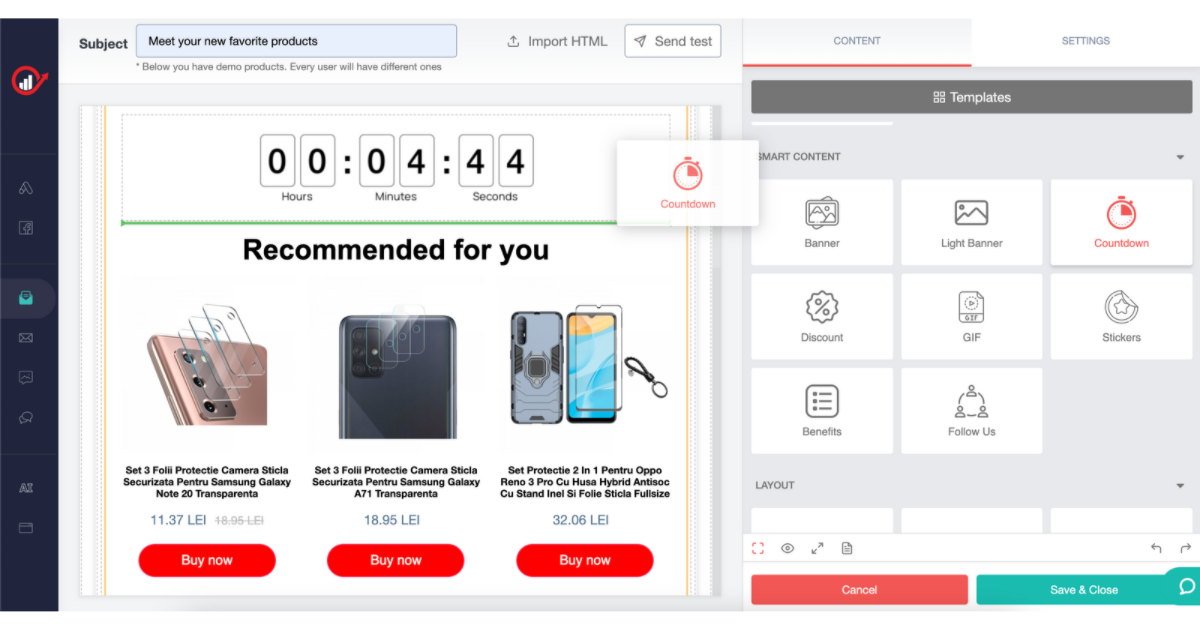 Send intelligently
Next, you can schedule the sending times for newsletter campaigns or let the AI take charge and send at optimal times, when subscribers are most likely to buy, thus increasing conversion rate.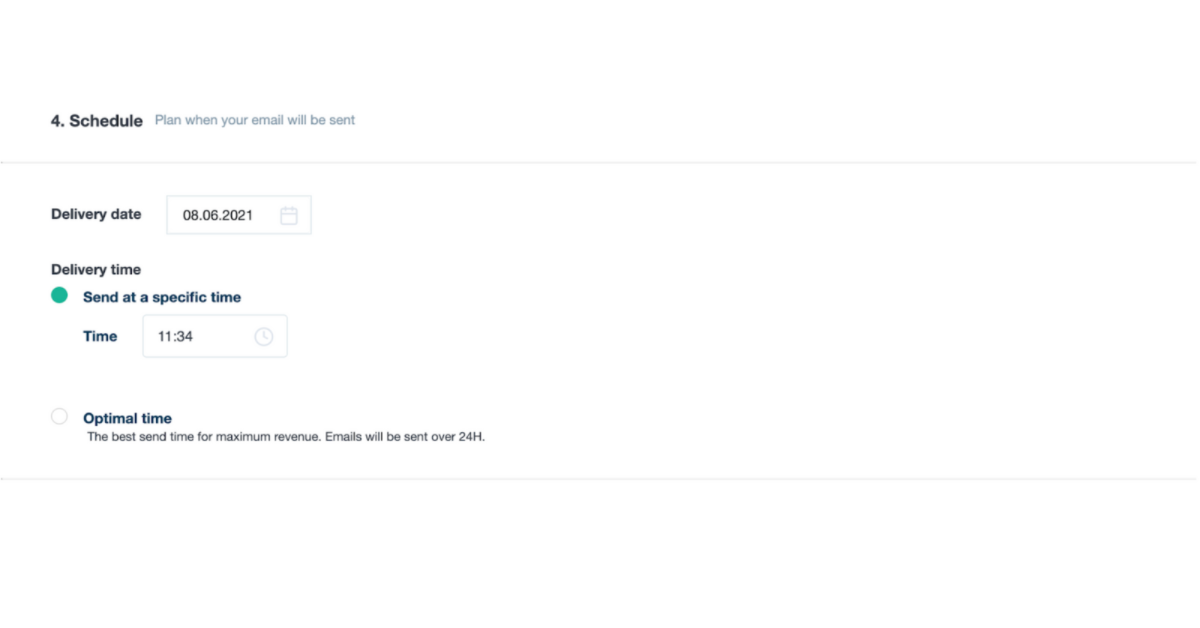 A/B testing features are also available, meaning that you will better understand which types of newsletters trigger subscribers' curiosity. Just specify the variable you'd like to test and the AI will determine the winning option. 
Lastly, if subscribers haven't opened your newsletter, you can automatically resend the email with different auto-generated subject lines and previews.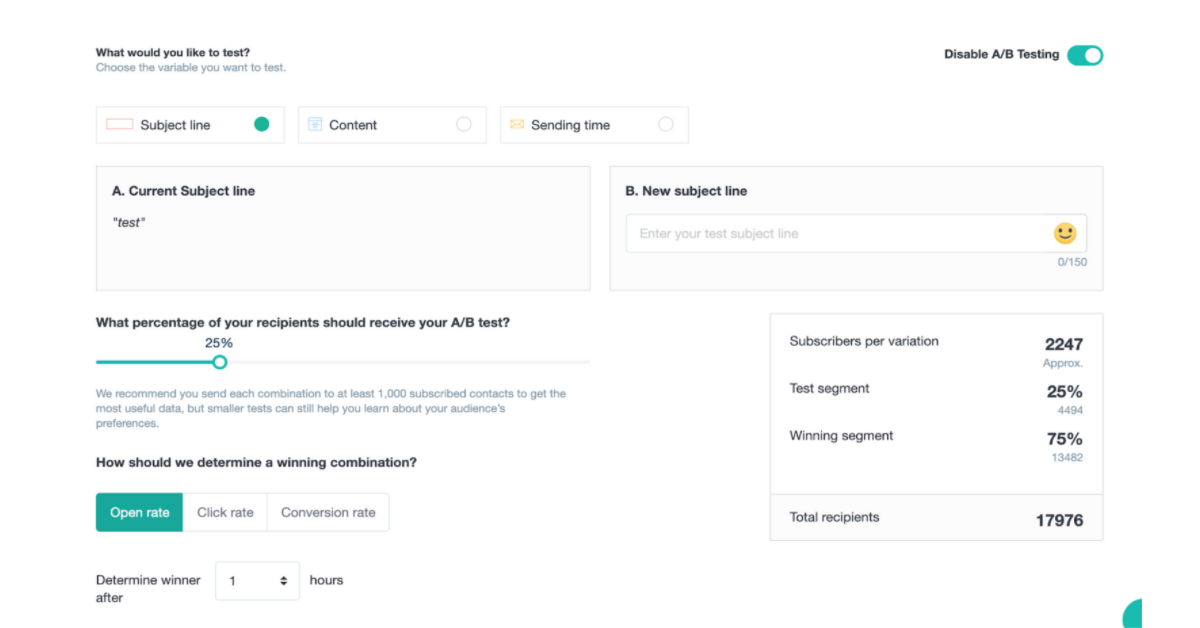 Let's talk money
There's no secret that you can find basic email marketing solutions for as little as 10 USD/month or even free of charge. But if you're looking to integrate personalized recommendations, you'll have to dig deep in your pockets, right? Wrong.
If you're considering platforms, such as Retargeting Biz, you can reap all the benefits of personalized newsletters for only 40 EUR/100.000 emails sent! 
To sum up
At their core, personalized newsletters are about staying as relevant as possible to customers in order to convey pleasant shopping experiences and create meaningful connections with them. Implementing personalization technologies can be tricky, but with the right tools at hand, your Conversion Rate, sales, Average Order Value, and customer loyalty will definitely skyrocket.