The Easter Bunny is just around the corner. While you might be hunting for customers, they're hunting for the best deals. So help them help you: make them an offer they can't refuse.
If you're not sure which marketing strategy to adopt, here are some eggcellent tactics to boost your traffic and skyrocket your sales. 
1. Be creative with your web design 
Think of your website as your own personal business card. It's all about first impressions. You want them to remember your site and have a pleasant experience. But since Easter is approaching, get them in that holiday vibe. Piece of cake!
If you want them to feel "eastery" customize your landing page. It might be their first interaction with your online store. Be creative: change colors, fonts, use Easter templates, personalize categories with bunnies and egg baskets. You can also update your visuals to be seasonal. Since you want existing customers to return to your site, you should customize your newsletters using specific themes. Maintaining a strong image is also important for prospects. So why not play with Facebook campaigns and customize your carousel ads? Make them joyful and colorful and don't forget to introduce your main promoter – the Easter Bunny!
2. Gamify the Easter traditions
Go down memory lane. Do you miss those times when you used to go egg hunting with your friends? Since Easter is all about being playful, create a contest for your customers. Get them engaged and increase your sales. 
Banana Republic had an ingenious Easter marketing strategy. They created an Egg Hunt campaign that asked people to go through different pages on their website in search of hidden eggs. There were 3 different types of eggs, and each one offered a prize. The Golden Egg gave products away. The Silver Egg offered products for half the price, while the Bronze Egg meant a 30% discount. While this kind of activity increases engagement, visitors are more likely to purchase items they stumbled upon during the egg hunt. There are many traditions that can be easily translated into digital Easter campaigns. For example, you can offer visitors token eggs for each item they purchase. Once they've gathered at least two, they can virtually tap them and crack down prices, a.k.a. get a discount code. Keep it fun and engaging!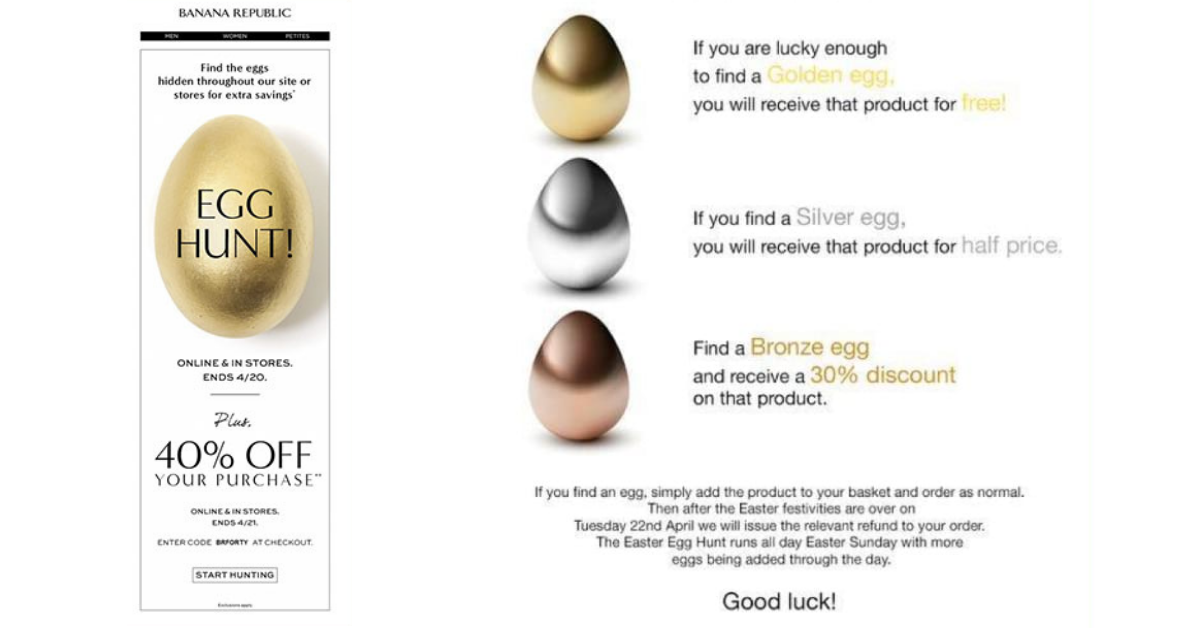 3. Leverage user-generated content
Instagram and Facebook have become the perfect channels to build brand awareness. You can get viral and strengthen your community with the right campaign. 
Make Easter social media content ideas the ace up your sleeve. Aside from impressive holiday content, create giveaways as a way to reward followers for their loyalty. Ask them to post a comment with their personal Easter tradition and explain why it is special to them. The winner gets a special offer of your choice. Need more? You can also create a UGC Hashtag campaign. Ask followers to take a selfie with their basket full of eggs and post it using your hashtag.  Repost the most impressive eggs on your feed or story. 
4. Make shoppers an offer they can't refuse 
Offer them an incredible discount on a popular product from your online store. Your goal here is not to generate immediate revenue, but to lead them to check your Easter Catalogue (we recommend that you have one). Once they've purchased one product, there is a high chance they will continue navigating your website and buy more. 
But don't stop there. Create bundles of popular products and sell them for special prices. Chances are your both your order volume and your average order value will boom, while your customer will discover more products. 
5. Emphasize promotion scarcity & urgency
In case customers don't have a need to buy – create it. You can do that by giving them a special offer with an expiration date (urgency), or by showing them the product is in high demand and might get out of stock (scarcity). Take Booking.com for example. You probably saw, more than once, that your favorite hotel has only one room left. This tactic is enhancing your users' Fear of Missing Out (FOMO). 
Useful tips: Use predictive segmentation to discover your client's preferences. Afterwards, send them a special offer via email with a bundle of their favorite items.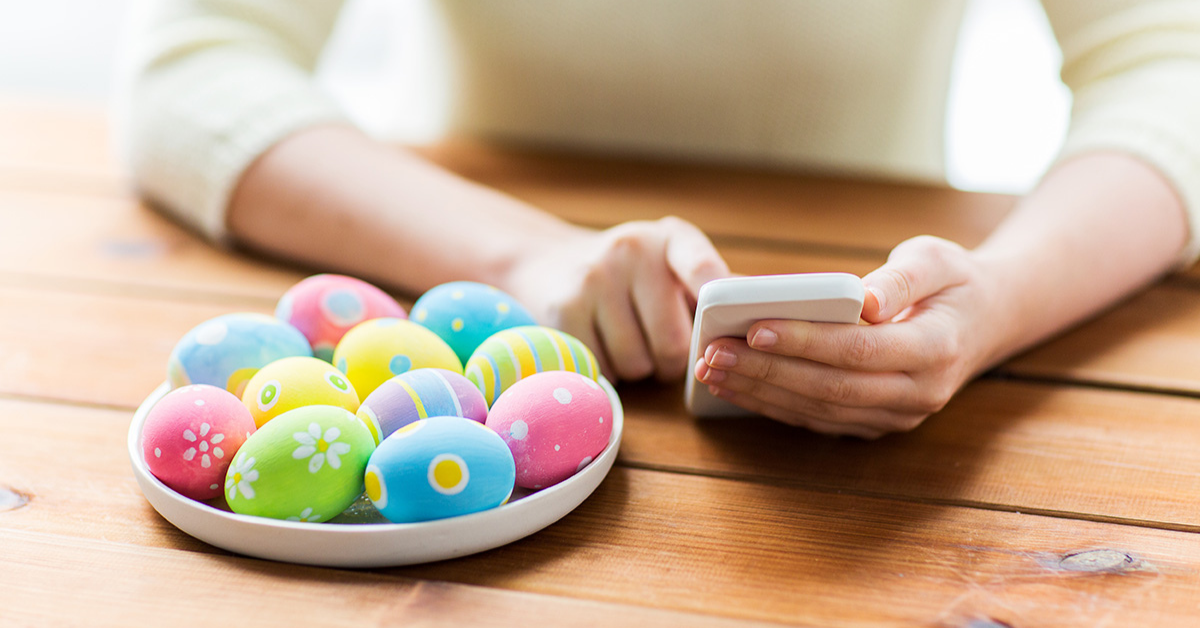 6. Be one step ahead of your competition
During holiday seasons, such as Easter, retailers tend to invest more in their online marketing ad spend, thus you will probably need to revise your budget in order to keep your reach high. 
Always keep track of your competition during this period of time, so you can stay on top of the game. In order to do that, you should closely monitor their content and make sure you upgrade your own with relevant information and the newest trends. Follow their promotions, get inspired and create better ones. Compare their current Easter social media content ideas with their old ones, see what has changed, maybe that could suit your needs too.
7. Learn from mistakes and optimize
Look at the past, for a brighter future! In other words, always evaluate your last year's results to better plan your next move. Think of your previous pain points. How can you improve your Easter marketing campaigns? Did your website crash, due to a spike in the number of visitors? Then make sure you upgrade your server's capacity this year.  
Next up, look at your most valuable assets. What were your best-performing ads and what made them so effective? You may have opted for personalization, or played safe by promoting top trending items. Just ask yourself what products were best sellers. Regardless of what you choose, make sure they are relevant now. 
Summary
These days, shopping is one click away, so make sure customers hear from you on a constant basis from multiple channels. Once you've got that covered, think of creative marketing strategies to boost your sales, especially during holiday seasons, such as Easter. Our advice?  Be unique! Customize your web design and be creative: turn long-lasting traditions into smart Easter online campaigns. Leverage social media to go viral and never forget to create a sense of urgency. In order to be on top of the game, always be one step ahead of your competitors and learn from your mistakes. Follow our Easter marketing strategies to boost your sales.