Anticipation, a powerful force that is sure to bring multitudes of customers running through the doors. A limited time offer is a perfect tool to maximize this sales-increasing factor by huge numbers.
The power of a limited time offer is undeniable. At some point, all of us have been tempted by a limited time offer. And had the urge to get our hands on that exclusive item before the offer expires. A limited time offer is probably the best marketing tactic that helps instill a sense of urgency among potential buyers and customers. It's a surefire way to increase conversions.
What is a limited time offer?
A limited time offer is a kind of a gift, reward, or a deal that a buyer gets when making a purchase within a certain period of time. It is one of the most widely-used marketing tools to attract users and customers.
Terms like "last chance", "30% off", "ends today" induce an immediate sense of loss which spurs the buyers into action. Limited time offers are a way of keeping your company at the forefront of the customer's minds and memory.
It's simple human psychology that we hate losing be it a valuable possession, argument, or an amazing discount or offer. Coupled with the distress of loss, limited time offer triggers urgency which plays on the fear of missing out and in this highly-modernized world. No one wants to miss out on something valuable or an incredible experience.
The working principles of the limited time offer
For most e-stores, the average cart abandonment rate varies from a surprising 67.4% to a staggering 83.7%, according to statistics. A very tempting remarketing strategy is the use of limited-time offers as a promising way to deal with the abandonment dilemma.
Scarcity is the fundamental element of limited time offer marketing. The power of limited supply and access can generate a rabid demand for products. The entire concept of supply and demand revolves around the idea of scarcity. The principle is quite simple and understandable, making a product difficult to obtain automatically skyrockets its demand.
Leveraging the power of scarcity and introducing an element of urgency assist customers to speed up the decision process. The objective is not to convert potential customers into rabid buyers; it is to encourage immediate actions and purchase decisions.
Before you declare a product to be exclusive and enforce the principles of scarcity and FOMO-ism, make sure you have a compelling deal to offer.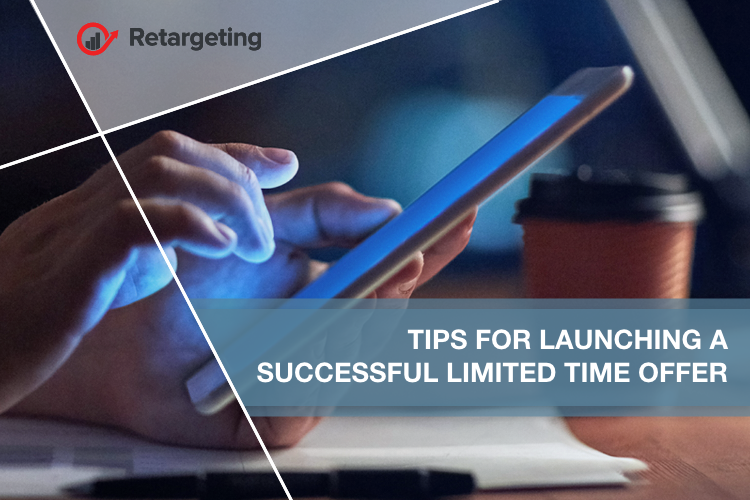 Tips for launching a successful limited time offer
All it truly takes to launch a successful limited-time offer campaign is to make maximum use of it. When you make a product exclusive, set a certain time period for its exclusivity and make it clear and understandable for the prospects.
To make a great offer, you need to understand the customers, business industry, market niche, and most importantly, the potential competitors. The deeper your knowledge is on these topics, the better your offer will be. However, if you are looking for a proposition that will sell smoothly, having a clear understanding of sales funnels, digital marketing strategies, and email sequences are of key importance.
Once the traffic is on your site, your offer will turn the window-shoppers into potential buyers.
Here are a few incredible ideas that might come in handy for your next limited time offer campaign:
Build and develop a well-structured landing page for your limited time offer.

Since text is not as attention-capturing as video content, employ a well-composed video to convey the limited time offer.

Where video content is a surefire way to grab attention, words remain a crucial element of the limited time offer. Get creative and clever with your text.

You want to hit record sales, include a seasonal product in your limited time offer.

Nothing excites customers more than free stuff and giveaways, provide a gift card or a free item in exchange for a particular purchase.

Use emojis to keep your emails interactive and engaging.

To increase the engagement of a particular audience group, offer sales and discounts on a certain product category.
You know why the last fifteen minutes of an examination goes faster than the rest of the hours, it's because the ticking clock induces a sense of urgency and the need to act quickly. Now employ the same phenomenon in your limited time offer, place a time counter at the top of your page to instill an added sense of urgency and prompt action.
Honesty is the best policy
Being completely honest with your customers and visitors plays a great role in developing trust. Be honest about the offer expiration dates and the stock supply. This also includes false claims!
If you say that everything is on sale, then it means that everything should be on sale. Don't put your customers through the hassles and troubles of figuring out which items are on sale and which are not. It not only causes a loss of loyal customers, but it drives away new customers as well.