At its core, social media marketing is all about connecting with your audience and offering them something so valuable that they keep coming back for more. But, once you generate a loyal following, the next step is leveraging it to your advantage. After all, you can offer all the value in the world and your audience will love you for it, but at the end of the day, if you gain nothing out of it – what's the point?
Realistically, there is no specific amount of content or value you should give before asking. But if you're doing anything creative, you need to know how to treat your audience. Why? Because if you don't, someone else will. If you don't have the right strategy, you risk alienating your audience. And that brings us to the first social media mistakes:
Constantly promoting yourself on social media
Let's say you have a perfected product that's tailored just right for your target market. They need to hear about this, right?
Well, be that as it may, you won't get very far by just promoting your products. Posts that direct users to a purchase or a landing page aren't likely to reach many people in the first place. And that's not how Facebook's algorithm works either.
Neither the consumers nor the Facebook algorithm wants to see content that's not original and provides little to no value. So, watch what you post and how often you do it.
Not having a consistent posting plan
Facebook is no longer a place where you can just throw out content and hope some of it sticks. If you want to win, you have to be consistent with your posting and as long as you share quality content, you'll be rewarded. The name of the game is quality over quantity.
A lot depends on your content. Make sure that your audience will enjoy what you're posting before you worry about other metrics. Plan out your posting schedule, try posting a different kind of content each day and see what works best with your audience.
Not trying new things in social media posts
You should also constantly be experimenting and trying new social media practices. Curating content close to your niche might be the hit that helps your page go viral.
Of course, this is just the tip of the iceberg. There are plenty of other ways you can experiment with social media marketing, and depending on your industry and audience, some of them might pay off more than others. Here are some other proven Facebook marketing tactics you can employ:
Start a group

: Groups are a great way to promote interest in your blog, grow and nurture an audience, and avoid any long-term marketing expenses.

Switch up your visuals

: According to specialists, Facebook posts with images enjoy 2.3x more engagement than those without images. And since most people already skim through the text, images are a great way to capture their attention.

Invest in ads

: Facebook Ads might seem somewhat complicated at first since they offer so many options. On the bright side, there are just as many payoffs you can gain from them.
Don't be afraid to try things other people aren't doing, it just might work for you.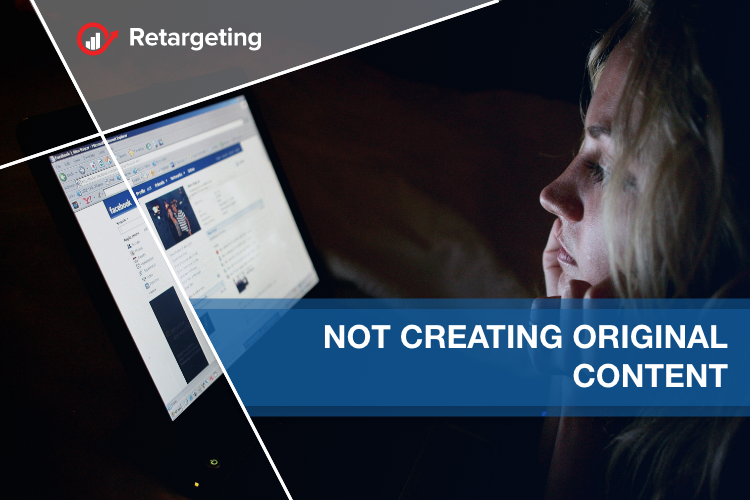 Not creating original content
Facebook loves original content. There's no doubt about it. Metrics like strong engagements and shares are what signal Facebook to distribute the content further.
If you too want to increase your reach and exposure, focus on shareable content. As long as you keep your audience in mind, give them value and trigger a sense of emotion, you'll be well on your track of gaining new followers through shares.
Not interacting
Social media is all about being social. This might sound obvious but if you're not interacting with, answering questions, replying to comments and connecting with your audience, you're missing out on a ton of value.
But doing all these, you're encouraging more interaction among your followers and your brand. In addition to basic interaction, you're also figuring out more information about your audience. You can never have enough information about your customers. This, in turn, will come in handy when you want to target them through Facebook ads.
Secondly, if done well, you're also increasing overall engagement. Treat them as a friend, joke with them and get them to crack a smile and you just might receive a customer loyal to your brand.
Not measuring your social media ROI
Arguably the most important part of your whole social marketing efforts is the ROI. Did you achieve what you set out to do? And how do you measure that in the first place? If you're not following this step, then all your marketing efforts might as well go to waste.
Each step of the way, you need to be measuring and tracking the results so you know if a tactic is worth pursuing or not. At the end of the day, you need a set of data or a number that says if your strategy was worth it or not. And no single metric tells you this better than the ROI.
If you want to know whether your Facebook marketing campaign paid off or not, you need to look at a couple of things and measure them accordingly:
The reach

: If your objective is to raise brand awareness and increase your reach, then all you need to do is look for metrics such as new follows, likes, shares, comments, and so on, in the insights section.

The traffic

: Traffic means people visiting your website and if you want to measure this effectively, you need to have a Pixel and Google Analytics ready on your site.

Conversions

: Choose the conversion metric that suits your goals, e.g. sign-ups, purchases, downloaded something, etc. and then insert a tracking code onto your website, such as Google Analytics or the Facebook Pixel.
Social media marketing is an extremely effective way to connect with your audience and build a loyal following. If you're not sure where to begin, start with providing relevant content and value to your target market. Everything else will follow from there.