Which is better for e-commerce, SEO or PPC? Every marketer has asked themselves this question at least once. The answer depends on one's industry and objectives.
Both methods can work together if you implement each one of them with a robust strategy. Curious on how to combine these two approaches for the best strategy possible? Here are the ups and downs of both PPC and SEO.
SEO, focus on organic traffic
Let's see what Search engine optimization (SEO) can do for your e-commerce brand:
Creates awareness

: Being visible in the search engine by utilizing targeted keywords aligns your brand with potential buyers. It works the same way as an advertisement and creates brand awareness.

Solidifies branding

: Getting exposure exploiting commercial search queries relevant to your location can put a positive impact on your branding. Searchers can identify with your brand and build trust. Also, your brand logo appearing higher in ranking makes it easier for people on the search engine to recall your brand.

Builds credibility

: Appearing in organic results can build credibility with people looking for your products or services. There are many users, who instead of trusting a paid ad, trust organic search results. If you appear in top searches, you get a stamp of credibility. Having good reviews can help with this.

Increased traffic

: With increased traffic comes more opportunities to boost awareness with regard to your business.

Improved CTR

: More than 1 billion people search on Google every month. There is a higher percentage of people clicking on the results brought about by organic search. There are exceptions out there, but generally, you can attract more clicks if your brand appears on the top results.

Strategic advantage

: Appearing on the top of result pages and getting visibility in organic SEO gives you an advantage. But once you have positioned your brand in the top ranking, your competitors cannot do the same using paid ads. So, it gives you a strategic advantage over your competitors who trust paid search.
Relying on SEO alone will drive any e-commerce business owner who needs quick sales, quick traffic, and quick brand building crazy. If you're a startup and the keywords that you are focusing on show results by industry giants, you need an entire strategy overhaul.
If you're planning to revamp your SEO strategy, you should also focus on creating quality content for strong organic exposure. Not all e-commerce businesses have a dedicated in-house team to take on content development, which presents an issue.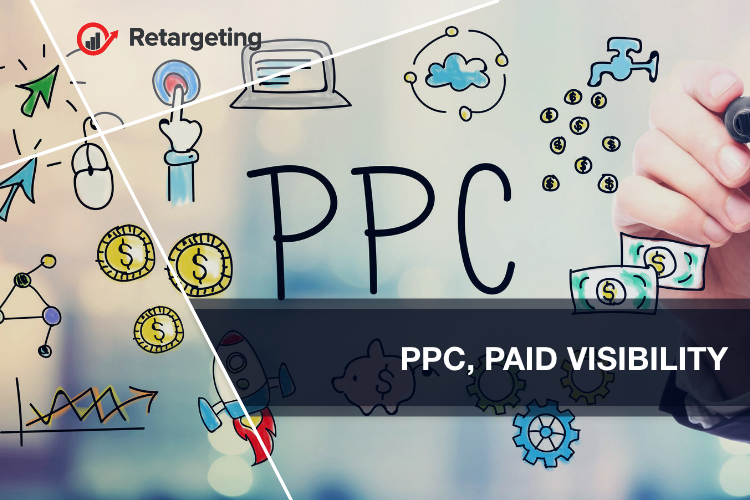 PPC, paid visibility
All in all, a well-set PPC account is easy to manage. It's a low-cost way for lead generation. Here are a couple of advantages:
Top of the page

: Paid search results appear on the top of the traditional result pages. The ad results get 65% of clicks as compared to the organic results if they include buying keywords.

Visual product advertisement

: When you want to sell a product, Google can create product listing ads. Such ads boost click-through rates using a feature which you won't find in organic search. You can add your product along with your company's logo.

Brand visibility

: Paid ads help you get noticed by a more targeted audience. Even if your audience doesn't click on your ads and do brand research, this will help your marketing efforts.

Laser targeting

: Pay Per Click offers a laser-targeted approach to appear in front of potential buyers. You can target the ads using time of the day, search keywords, language, weekday, device, geography, and customers based on earlier visits.

Speed

: This goes without saying that PPC is speedier than organic search, which takes time to generate visibility.

Marketing insights

: Paid search doesn't come with restrictions on the name of privacy. Organic search restricts access to keyword data. You can use Google Analytics to analyze which keywords convert and what's their percentage and cost. You can feed this insight directly into your organic search marketing and improve results.
If your e-commerce business is about targeting a small geographic area with a small set of keywords, PPC helps you create more leads within your budget. Furthermore, you can optimize your accounts to curb costs and boost return.
But in some scenarios, PPC can cost you a lot of money. If you target the entire country or run international campaigns, the cost will shoot up.