In keeping with its predecessor, 2021 was a long and bumpy ride. But its silver lining undoubtedly carries the day. The waves of the COVID-19 pandemic still rippled across the world, which further accelerated the growth of the e-commerce sector. At a point where online shops started facing increasingly challenging competition and consumer expectations, a new, high-geared Retargeting made its way into the market! And that flagged the beginning of a new online marketing era for e-tailers where personalization, automation, seamless online shopping experiences, and sky-high campaign performances became the norm.
Springing into action
At the beginning of the year, we were more than halfway through our quest to launch the new Retargeting platform. Exciting features started to take shape, but we knew that in order to keep up with our own ambitions, getting all hands on deck was no longer sufficient. So before you know it, just as we finally got to see each other more often around the office, our team was blooming.
The buzzing office atmosphere matched the rapid progress our team of developers made in endowing the New Retargeting with Artificial Intelligence and powerful automation capacity. Meanwhile, the most creative of us were preparing a makeover worthy of the platform's new capabilities.
With summer around the corner, clients were eager to be the first ones to try the ingenious on-site product recommendations and the easy-to-build personalized newsletters. As the algorithm improved itself and learned more, so grew the stores' sales. And so we got our confirmation. This would be a game-changer.
Riding the summer wave  
The new, more complex technology had a different build. As a result, the transition of the online shops using Retargeting at that time to the new platform began. It was a long and laborious process since our Account Managers got in touch with each and individual user, guiding them through. At the same time, it was an excellent opportunity to learn more about who our clients are, what challenges they face, and how to tailor our platform in order to better suit their needs.
The events scene, whether online, offline, or hybrid also started to get more traction, meaning we got the chance to meet familiar faces, business partners, clients, as well as prospects. We could see the finish line and we were eager to let everyone know about the new smart features. The demos left all audiences impressed and excited to give the new app a try. 
What can we say? It was a heated summer!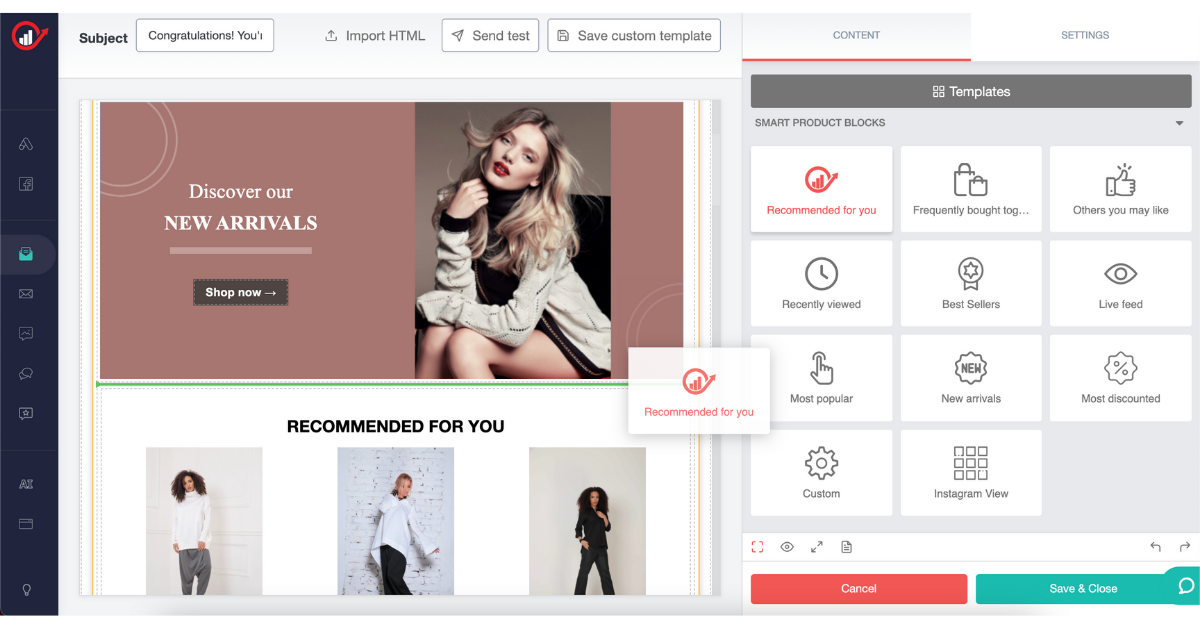 3, 2, 1, Launch!
September 15th, 2021. Here there was, the day we'd been all waiting for! After two and a half years of hard work and dedication, the result of tens of bright minds and a 3 million euro investment, the New Retargeting Biz was live and kicking! 
Easy-to-use, automated, and AI-powered, the new platform featured a myriad of predefined designs and impactful graphic resources, auto-generated content, in addition to two powerful marketing channels: on-site product suggestions and personalized newsletters. All the existing services were enhanced, so the synergy of the all-in-one platform proved great efficiency in increasing sales, improving user experience, and encouraging long-term customer loyalty.
As we wanted to help all users get familiar with the new interface, unlock the platform's full potential, and get ready for the Black Friday and holiday season, we also prepared a detailed action plan everyone could easily download straight from their dashboard. The step-by-step instructions accompanied by marketing advice encouraged e-shops to try out as many types of campaigns as possible. Newsletters quickly gained popularity, 35% of all Retargeters sending personalized campaigns, with some recording a 12% increase in sales after just one month.
Looking ahead
After a fiery Black Friday, we're now at the peak of the holiday season. The new platform forged a new path, enabling new opportunities for development. From Feedback campaigns that help e-shops keep their customers pleased and close to their brands, to GDPR compliance and most recently the Retargeting Roadmap, which opens a dialogue with the platform users allowing them to bring it closer to their individual needs, we'll never, ever, stop striving for more.
We are grateful for the year 2021. It brought challenges that made us better, more flexible, and resilient, as well as celebratory moments that fuelled our passion. Thanks to all Retargeters for trusting us and believing e-commerce marketing should be easy. And last but not least, thanks to all our partners for helping us reach farther and achieve greater things together.
2022, bring it on, we're ready!