The future is already here and this has been a year of full-on video revolution for marketers. According to statistics, 61% of businesses have started using video content marketing. 66% of these companies were not using video a year ago. This trend has progressed rapidly and will reach new heights sooner than we think.
Undoubtedly, video marketing is one of the newest additions to your promotion toolbox. You might still have your doubts, but it's worth it. Not only because everyone's doing it but because video is one of the most versatile and profitable digital marketing tools out there.
Boosts conversions and sales!
Videos can make serious money. Adding a product video on your landing page can increase conversions by 80%.
Video can also lead directly to sales. Studies show that 74% of users who watched an explainer video about a product subsequently bought it.
This effectiveness of video is not even that surprising. After all, vision is our most dominant sense. Most information transmitted to our brain is visual.
Shows great ROI!
About 76% of businesses say that video provides good return on investment. Even though video production is not yet the easiest nor cheapest task, it pays off big time. Besides, online video editing tools are constantly improving and becoming more affordable. And even your smartphone can make pretty decent videos already.
Another good news is that your videos don't have to be perfect. It's the content that matters! Latest research shows that users are mostly put off by videos that don't explain the product or service clearly enough. Low quality and poor design didn't matter nearly as much.
Helps build trust!
Building trust should be a goal on its own. The whole concept of content marketing is based on it and on creating long-term relationships. Stop selling and let the people come to you by providing them interesting and useful information.
Promotional videos can foster trust. Some consumers are still skeptical about buying products and services on the internet because they of the fear of being cheated. But effective marketing videos present your products in a conversational form. That creates a sense of individual approach which is why 57% of consumers say that videos gave them more confidence to purchase online.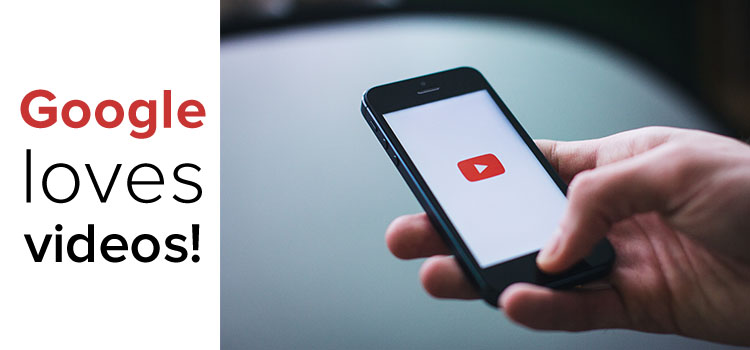 Google loves videos!
Videos allow you to increase the time spent by visitors on your site. Thus, longer exposure builds trust and signals search engines that your site has good content. You're 53 times more likely to show up first on Google if you have a video embedded on your website. Since Google now owns YouTube, there has been a significant increase on how much videos affect your search engine rank.
Appeals to mobile users!
Video and mobile go hand in hand. Since people like to watch videos on the go, and the number of smartphone users is growing, your video audience keeps getting bigger and bigger.
In addition, Google tells us that smartphone users are twice as likely than TV viewers and 1.4 times more likely as desktop viewers to feel a sense of personal connection to brands that show video content or ads on their devices.
Encourages shares!
In a social media context, video marketers must remember that people share emotions, not facts. 76% of users say they would share a branded video with their friends if it was entertaining. So create fun entertaining videos to encourage social shares. Emotions are not exactly ROI but social shares can increase traffic to your site, and you can take it from there.