Video advertising is the latest trend, but it doesn't mean you just make an ad, run it and expect the sales to start pouring in. All great advertising start with a great strategy and video ads are no exception.
Actually, creating this type of ad tends to be a lot more expensive, so the risks are higher compared with other online marketing channels. Of course, the rewards can be greater, as long as you take your time and make sure you create the right video ads.
Fortunately, there are a few things to take into consideration before starting the ad-creation process.
Targeted audience place in the sales funnel!
In general, upper-funnel videos are intended to build brand awareness and they should be designed to grab and hold people's attention. The goal is to get people to connect with your business, so metrics like video views or watch time are good measures of success. Your content should make your audience eager to see what will happen next all the way through to the end.
Lower-funnel videos are typically designed to get people to buy or convert. For these types of videos, the most important metrics are usually sales. It's best to quickly establish that what you're advertising is awesome and then encourage them to buy by overcoming whatever objections they may have.
What will your audience experience be?
More than almost any other type of marketing, videos ads allow you to give people an experience. The wrong experience will make people click "Skip." The right experience will change them in some way.
The key here is to identify what impression you want to make on your target audience. Your understanding of what kind of experience your audience will have and how that experience should change them will form the foundation for your video script, so it's important to take your time and really think through what you want your ad to achieve.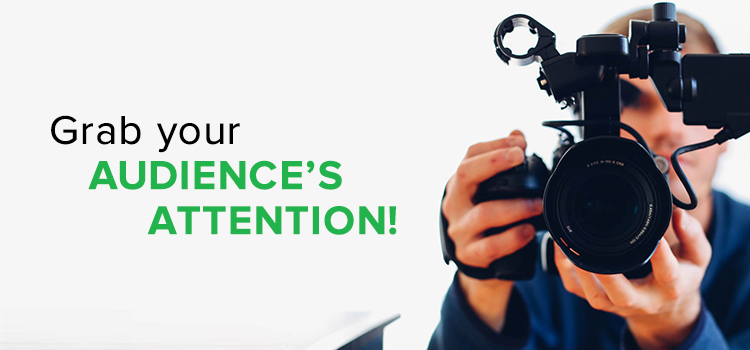 Grab your audience's attention!
If you want your video ads to achieve your goals, you need to create content that grabs your target audience's attention.
The easiest way to do this is to watch what your competitors are doing. Looking for consistent elements in their videos will help in your own ads. But also figure out what you can do differently. If you can get their attention, you'll pique their interest, and they'll want to keep watching.
Great video ad campaigns start with a great video advertising strategy. Creating video ads is a fairly expensive process, so it's important to take your time and make sure you create the right ad the first time. There are three things you need to account for before you start brainstorming video ad ideas:
What do you want to achieve?

How can you grab your audience's attention?

How will you create the videos?
Taking the time to answer these questions will save you a lot of time, money and effort. The better you understand your goals and options, the more you can focus on getting the best possible results out of your video ad budget.