When it comes to e-commerce, a shipped package represents the most direct connection with a customer, but it is also one of the most underused marketing opportunities. Done well, a branded packaging and unboxing experience is a great way to leave a lasting impression, create a memorable moment for your customers and encourage them to shop with you again in the future.
Today's consumers are driven by interactions and shareable experiences. This is evident when looking at current trends in social media and video websites such as YouTube. In 2016 unboxing videos on YouTube grew by 871% with over 41 million videos posted. On social sharing sites like Twitter, common hashtags like #PackagingFails and #Unboxing are used on a daily basis.
Thanks to social media, it's become a trend to film or photograph the unboxing process and share it with friends and followers. Many people find this type of experience exciting, as it adds a more personal touch to online shopping. People love receiving beautiful packages, and if it's creative or unique enough, your brand can get some love on your customer's social media profile.
Given that your business has the opportunity to get some brand awareness through social media, unboxing is a great marketing opportunity that you should use to your advantage!
Why does it matter?
People like sharing great experiences they've had. If you search "unboxing" on Google, you'll find countless blog posts, images, and videos. Many of those pieces of content were created by customers, further helping brands get their name out there to more people.
Building a long-term, sustainable brand means bringing customers coming back for more again and again. Repeat customers will spend more with your business, and investing in retention marketing can move you off of the acquisition treadmill where you're always trying to find new customers.
Why create branded packaging experiences
Just think about the thrill that simply getting a package in the mail creates. Now imagine dramatically amping up that thrill. What if opening a box could feel more like unwrapping a particularly artful holiday gift? Actually, according to recent surveys:
52% of online consumers say they are more likely to make repeat purchases from a brand delivering orders in premium packaging;

71% of online consumers say they expect higher quality packaging when ordering expensive products online;

83% of online consumers say they are likely to share an image of high-quality packaging on social media.
Using your touchpoints to create unexpected moments of delight for your customers sparks loyalty, satisfaction, and sharing. Moreover, as an e-commerce business, you have fewer touchpoints than brick and mortar shops do, so you have to make each one count. And the data is clear: the branded packaging experience is one you should not overlook.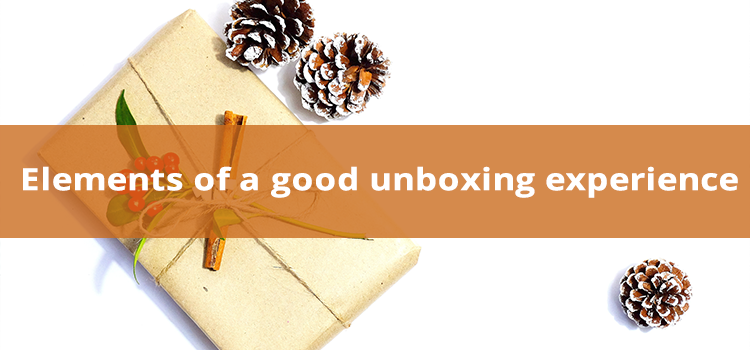 Elements of a good unboxing experience
Creative packaging designs always earn you extra points from the customer. But making sure your product is securely packaged remains the number one objective. Still, here's what you should consider when choosing material for your unboxing experience:
Ease of use. The materials should be easy to unwrap. For example, ribbons should not be too tightly tied.
The box should be the right size. Items inside should fit and not move around too much. It would be the best scenario if all items are neatly placed so they can be viewed all at once.
Make it Insta-worthy! The design, materials used, and the layout of the items in the box should create a picture which will look good when shared on Instagram.
By creating enjoyable, shareable experiences brands drive consumer engagement. Increasing positive sharing and impacting consumers' opinions. These positive impressions create brand advocates who share their experiences with their network.
Some may view packaging as trivial, but investing in the unboxing experience can be a wise marketing move for your business. Branded boxes, tapes, ribbon, tissue add a special touch to your customer experience and can make your brand more memorable to even the most fickle consumer.
The best part is that if you do it right, you'll get free, user-generated content from happy customers who are willing to share their experience of your brand with their followers by creating unboxing posts. It can't get any better than a successful sale followed by a positive, free press!