Weekly, new announcements create opportunities for brands to deliver better customer experiences through search. And the trend is only set to grow at an eye-watering rate through 2020 when it is predicted $79 billion will be spent on SEO services and technologies.
For enterprise brands, long-term planning is vital. So, how can they set a long-term enterprise SEO strategy when things change so often?
Brands should take note and lay the groundwork for the future today, by focusing on three areas that are already reshaping the industry.
Visual Search
Visual search turns a smartphone into a discovery engine, taking an image as its stimulus to provide related results. The benefit of this is that consumers can look for something without having to describe it through text.
It is sufficient to show the browser what we are interested in and it can do the rest on our behalf.
This can be placed in the wider context of "queryless search," a development that sees browsers either preempt or interpret a consumer's intent without the need for an explicit query.
In fact, Gartner thinks that by 2020, 30 percent of all searches will be conducted without a screen, while over 100 million consumers will shop in augmented reality by the end of this decade. Visual search is in prime position to benefit from these trends.
Thus, the appeal of visual search is self-evident. It can look for us when we don't have the words to explain what we want.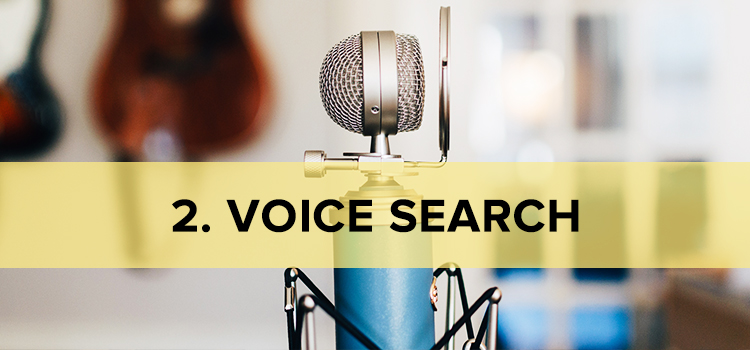 Voice Search
Some specialists estimate that by 2020 there will be more than 75 billion devices connected to the internet, while others predict that about 50 percent of all searches will be by voice in 2020.
With key players like Amazon, Google, and Microsoft now having passed the 95 percent accuracy threshold, voice search has entered the mainstream. And yet, 62 percent of marketers say they have no immediate plans to optimize for it.
Voice search will become much more conversational in its format and also more ubiquitous in its presence, as it will be embedded in billions of devices. Brands must be creative if we are to move past the stilted dialogues that characterize it today.
Vertical Search
As looking for something develops into a multimedia experience, it also starts to fragment into a range of fields. Specialists describe vertical search optimization (VSO) as the indexing and exposition of content focused on a site, category, or industry.
For brands, this creates both opportunities and challenges. Maintaining an up-to-date presence across all of these vertical search engines can be time-consuming.
Consumers will use it when it helps them get things done quicker, better, or cheaper than the traditional seek. Brands can pinpoint these desires and map out content that caters to the shifting demands of the same consumer across different platforms.
Through visual, voice, and vertical, the industry will become a multimedia, omnipresent channel that guides consumers to better decisions and experiences. Brands that act today will be in prime position to capitalize for years to come.