Want to boost your social media engagement? Craving more likes, shares and comments on your posts? Social media marketing is a must for all modern age businesses, marketers, entrepreneurs, and personal brands.
So it's no wonder that we're all trying to optimize our posts, increase our reach, grow our following and boost our engagement rates.
Purely by posting when your audience is most likely to be online, you increase your chances of engaging your followers, reaching more of them and growing your following.
When to post on LinkedIn
LinkedIn began life as a resume and job posting board but has now grown into a social network designed for the business community.
Given that their users are largely professionals, the best time to post is weekdays between 8 am and 6 pm, but wait we can narrow those numbers further.
LinkedIn sees most use during the middle of the week, Tuesday – Thursday, probably because workers have loads to think about on a Monday and are already planning their weekends on a Friday.
But we don't spend all day staring at our LinkedIn profiles. In fact, we are most engaged on this platform at three different points of the day: 7:30 – 9:30 am (Start of work), 12 – 2 pm (Lunchtime), 5 – 6 pm (End of working day).
So, those are the best times, but when's the worst? LinkedIn users don't tend to use the site at night. So, steer clear of any late posts. In fact, don't even bother between 10 pm and 6 am. Weekends are also a definite no-no.
The best times to post on Twitter
Their newsfeed uses a completely different algorithm to that of Facebook, Instagram or Linkedin, making the importance of posting at the right time absolutely crucial to your success.
The Twitter newsfeed depends heavily on the recency of tweets. Of course, all networks show more new posts than old ones, but Twitter's algorithm leans a lot more heavily upon it. This means you can tweet the most amazing valuable content, but nobody will see it if it isn't published at the right time.
People use mobile to check their profiles while commuting, taking breaks at work and towards the end of their working day.
Also, Twitter's usage spikes during midweek. The best times to post on Twitter are Tuesday-Thursday, between the hours of 12 pm – 2 pm and 5 pm – 6 pm. And the worst times to post are overnight, 10 pm – 6 am.
That being said, if you really want to get the most out of Twitter, you need to post a lot, 3-7 times per day, every day or every weekday at least.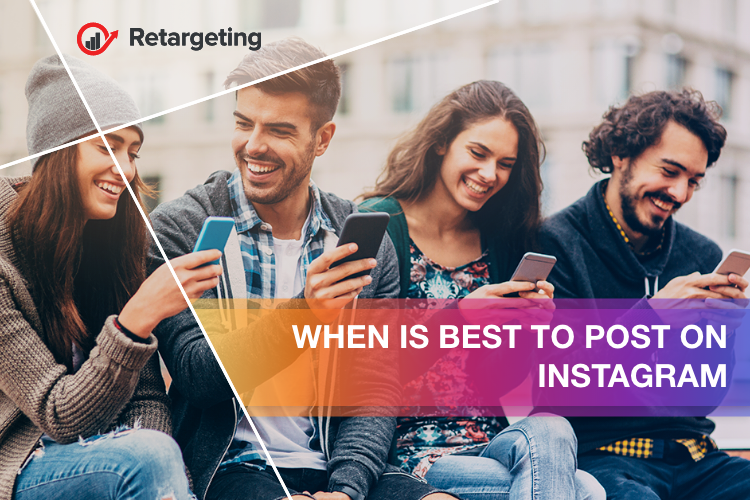 When is best to post on Instagram
Instagram is the fastest growing social network at the moment and is becoming increasingly important to businesses in a wide range of industries. When it comes to the best time to post on Instagram, there are a few different factors to take into account:
Instagram was created for mobile and is very rarely used on the desktop. So, when are your target audience most likely to be on their mobile phones?
The Instagram algorithm ranks posts by user behavior and relationship with the post publisher, interests, timeliness, and engagement. So, what type of content is most likely to appeal to these factors and therefore rank higher on the newsfeed for longer?
Instagram is particularly popular with 18-35-year-olds. Which end of the scale are your target audience and when are they most likely to be online?
The quality of your content is more important now than ever before. You must make sure that your posting strategy is up to scratch, before worrying about the best times to publish posts.
Insta sees an increase in users during weekday lunch hours (11:30 – 1:30 pm) and in the evening (6 – 10 pm). Saturday also sees an increase in user numbers, particularly in the late afternoon and evening. Sunday's are the worst days to post content, so if you're looking for a day to take a break from publishing posts, Sunday should be the one.
The best times on Facebook
Similarly to Twitter, the success of your Facebook posts is very much audience dependent. The network has so many users, in so many different countries, almost anytime is a good time to receive engagement, but that doesn't necessarily mean it's a good time to engage your target audience.
Because of their enormous number of users and the huge variety in their user demographics, it's almost impossible to tell the best time to post on this network. However, there are a few facts that should guide your posting strategy.
For starters, Facebook is increasingly being visited by mobile users, but one of their most popular times is at the start of the working day, these visits are predominantly from desktop users.
It's thought that the days with the highest Facebook engagement, run between Thursday-Sunday. In fact, Facebook activity increases during the weekends. That being said, don't rush off and publish all your content during weekend evenings (after 8 pm).
I'd recommend posting early, 10 am -12 am on a Saturday, and throughout the rest of the week, especially the end of the week, Thursday and Friday, during working hours.
If you'd like to learn more about your audiences' activity, Facebook analytics should hold the answers. You can also use this information to discover the worst times to post on your Facebook business page.
It's all well and good knowing the most popular usage times on the world's biggest social networks, but it means nothing if you don't understand your audience.
Nurturing a qualified and engaged audience is impossible if you're pushing out rushed content. Spend time thinking about your audience's needs before yours.