All-in-one-screen shoppable content could evolve in ways that dramatically change e-commerce and marketing.
In today's digital age, content is increasingly being viewed as a primary factor behind purchasing decisions in e-commerce. People don't want to buy goods and services instead, they want to buy relations, stories, and magic. The result? More and more brands are getting serious about content, favoring it over ads. In other words, content in e-commerce is now thriving.
From click-to-buy buttons on Pinterest to "swipe up" directives on Snapchat, the shoppable media ecosystem is growing at a rapid pace, making it easier than ever for advertisers to place products in front of consumers on the platforms they look to for inspiration.
When it comes to content and e-commerce, the two have previously existed quite separately from one another. There were stories accompanying products even before content marketing became a trend, but the truth is, those stories were never fully integrated in the shopping process. And products were never fully integrated into the storytelling process, either. However, things changed dramatically when content became shoppable.
What is shoppable content?
Simply put, shoppable content is any type of content that provides a direct purchasing opportunity and allows consumers to either add products to cart directly from what they are viewing, or be taken to a product page and continue to shop from there.
The key idea of shoppable content is to satisfy the immediate purchasing desire that content creates in the heart of the readers.
Click, add to cart, keep on reading!
Content marketing is no longer about pure content. People do want to get additional value out of it, but now, they also want to be entertained before making a purchasing commitment. Therefore, content becomes more interactive than it was ever before. That's why gifs are so popular, why videos are taking over the content world, and why content itself is rapidly becoming shoppable.
If content becomes instantly shoppable, the "shopping queue" simply ceases to exist. All it takes is for the customer to click, add the product to a shopping cart, and keep reading.
According to recent reports, 91% of buyers prefer interactive, visual content that can be accessed on demand. And moreover, people actually expect to be told where to buy what they just read about on their websites, so there's nothing wrong with crossing the line between content and commerce, so long as it adds utility to the reader.
Shoppable content has created a democratic, open marketplace, so staying true to yourself and being honest with your readers is essential.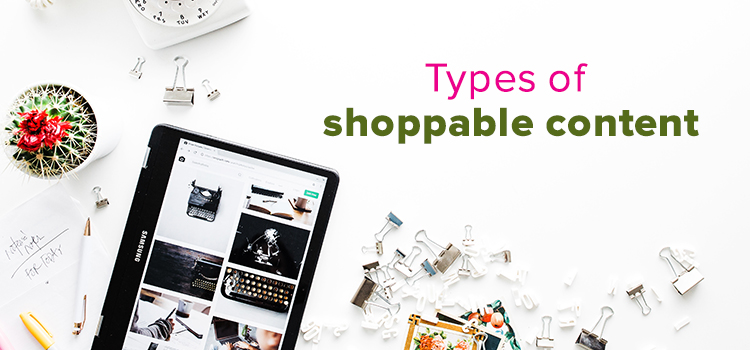 Types of shoppable content
Although shoppable content is quite a new trend, you can see it pretty much everywhere in the e-commerce industry.
A more elegant approach is to integrate the shoppability feature so seamlessly that it doesn't interrupt the reading experience. People can keep engaging themselves in content, adding pieces to the shopping cart, and go on reading, able to get to the end of the story. So if the click is based on whimsical inspiration, the remaining part of the content provides a final incentive to go through with the purchase at the end.
Some brands are even taking a step further and creating interactive shoppable videos. While other brands are harnessing the power of shoppable photography. You look at those pictures, you get inspired, you click, and you're ready to shop. It doesn't get any simpler than that.
And it's not only articles, videos, and photos that are undergoing the "shoppability" test at the moment: social media, with buyable pins and shoppable Instas, is also tagging along, clearly showing that it's not the question of WHEN and IF brands should embrace the shoppable trend, but rather the question of HOW?
These are just a couple of ways retailers are reducing the sequence of screens and steps required to make a purchase into a single screen with overlays and buy buttons. That's because the more screens the more time to reconsider if you really want those products. Single-screen purchasing also makes mobile purchasing less of a hassle.
Step by step, online images and videos are becoming an impulse buyer's dream. You see something, love it, want to have it … ah, there is a layer for finding variations in price or size, and there is an overlaid button to buy.