An environment where people love to work is not a priority for most companies. But, after a couple of months working at the new Retargeting HQ, I can say that this is not such a company.
Some of you might be skeptical that the way an office looks can help with productivity, but actually working in a beautiful space increases it. At least, when I come to a place where there's lots of light, a relaxed atmosphere and you don't feel cramped up, I am more motivated and focused on getting the job done.
The joy of freedom of choice!
Does cramming lots of people in a small space gets the best results? The answer is definitely "No" for me!
Noisy, crowded offices make you distracted and less productive. I don't even need to say less social since the only way to get something done is using headphones and thus completely isolating yourself from your colleagues.
Our new office has a lot of meeting rooms, couches, a rocking chair, a massage chair, and even a Quiet room where you can just go and relax.
You just pick up your MacBook and go wherever you like! Nobody forces you to stay for 8 hours at a desk! Some of my colleagues actually use fitness balls instead of a chair. On top of the commodity factor, imagine the health benefits of not sitting on a chair so many hours!
Light increases my productivity
I don't know about you, but I seem to be sleeping less and less and I'm stressed a lot of the time. Been sleep-deprived makes me feel tired and I'm not as productive as a result.
One thing that helps me keep positive, motivated, and awake is natural light. A big plus at the new Retargeting office is all the floor to ceiling windows. Thanks to them, it's impossible to work in a space where there isn't any natural light. That's a big productivity perk.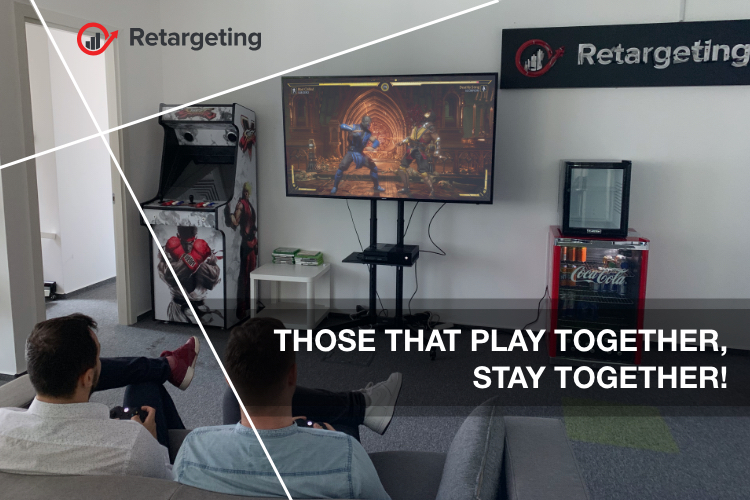 Those that play together, stay together!
Increasingly, the expectation of workers is that you should be able to be your true self at work. There's no point in pretending that we have two separate personas, a "professional" you and a "real" you.
We spend most of our waking hours at work. So it's a must for the office to be an enjoyable place to be. That's where unique office perks come in.
Why do they matter? Because when you spend that much of your time in the office, it would be nice if it is a place you actually enjoy to be.
And when working for a tech-oriented company you most likely enjoy technology and gadgets. Imagine being at work, wanting a break and you can just go, sit on a comfy couch and play on Xbox with your colleagues. At Retargeting we do just that! Actually, we already had Mortal Kombat tournaments. And we also have arcade games, if vintage is more of your gaming style! 🙂
And did I mention we watched every week the last season of Game of Thrones?
The feel-good of giving back!
Sharing feels good! And we at Retargeting like to share our knowledge to help online shops grow their business. So, on top of the marketing services we provide with our platform, we also started Retargeting Academy, a series of workshops that provide expertise on financial strategies, PPC, logistics, security, reporting, SEO and content.
And the new office is the perfect setting for a get together with people that want to take advantage of all the information we and our partners can provide.
The perks of working at Retargeting.biz
A highly motivating salary plus bonuses

Be a part of one of the fastest growing companies in Eastern Europe so you will grow with us

State of the art technologies; did we mentioned we all have our own highly performant Mac

Challenging projects and a chance to work in a professional and friendly environment

The possibility to bring your own ideas to life in a stable and supportive working environment

Working for a smart and successful tool

Full support for personal development

Fun team building

Private health insurance

Holiday vouchers and meal tickets
Everyone likes to feel appreciated. Working at a company that cares about people, that offers employees' perks and a spacious, nice place to work in it makes you feel like that company is happy to invest in you, the people that make up a truly amazing team.