Pinterest is a great source of traffic for e-commerce due to the platform's focus on visuals. Users can find pins on almost anything they want and most times these people are already in a buying mood. If you're not tapping into Pinterest traffic potential as an e-shop owner, then you're already missing a lot.
Last year, Pinterest had 250 million monthly active users. Its audience is still female-heavy, but it's steadily increasing in popularity among male users. Those numbers are small relative to the social media landscape, but while Pinterest technically fits the bill, the "social" label doesn't quite fit.
More people follow brands than their actual friends and Pinterest has a lot in common with a search engine. That makes the platform inherently more shoppable, something that's become more apparent over the years.
How Pinterest changes e-commerce
Organic traffic is the best kind of traffic your e-commerce store can have. The more you can drive traffic to your landing pages without paying for ads, the greater your bottom line.
Pinterest allows you to segment your target audience by using categories to drive the right shoppers to your right products. When you pin a product image, you can assign it to boards where users can browse an entire category. Boards allow you to be as generic or specific as you want.
One of Pinterest's most unique capabilities, however, is simply in its structure. Pinterest allows you to organize your brand's boards however you'd like, giving you complete control over the image stream you'd like your visitors to see.
Maybe you'd like to lead with products currently on sale. Maybe you'd like to lead with low inventory products. Organizing your board and utilizing Product Pins to show real-time pricing and availability helps you curate an off-site shopping experience.
'
Shop the Look' pins
Ninety-eight percent of users buy products they see on Pinterest, but they have to leave the site to do so. With Shop the Look pins users see a product they like, they can stay where they are and buy what they see without leaving Pinterest.
This seamless customer experience speeds up the buying process because instead of visiting multiple websites to compare products and prices, customers can comparison-shop in one place.
Keep in mind that Shop the Look Pins are especially useful for users who like to create boards and pin content they'll revisit later. For example, users can create boards that focus on gifts for their family or products for their homes. Users can start their search on Pinterest and then go to your website for more information. This is helpful, considering the majority of people research online before they buy.
Different content formats
Pinterest is essentially a visual search engine that encourages the discovery of new information. Since there are millions of images to scroll through, you have to be strategic about how you share visuals. One way to do this is to vary the type of images you share.
Visual content is essential for customer retention since it fosters better understanding and reduces confusion for readers who took the time to read your post.
To get more leads, move users through the sales funnel quicker, do something different than the competition, and categorize the type of content you'll share on Pinterest. For example, you can share:
Blog posts to give researching users more in-depth information to explore

Product updates to highlight new product releases

Videos to show users how a product works
Complementary Pins
Just like your product pages, or even your blog, your Pinterest boards have to be updated frequently to keep users coming back. The key, however, is to share more than just your own products and content. This means sharing content that supports or shows the value you and your products offer.
Pinning content that goes beyond the scope of your products shows your audience what's important to you and what you value besides making sales. If your values match your audiences, they're more likely to buy something.
This might seem like such a small thing, but 75% of customers want to do business with companies that have the same beliefs and values as they do. Get to know your audience by talking to them or surveying them to understand what's important to them and make sure you share your insights and values with them.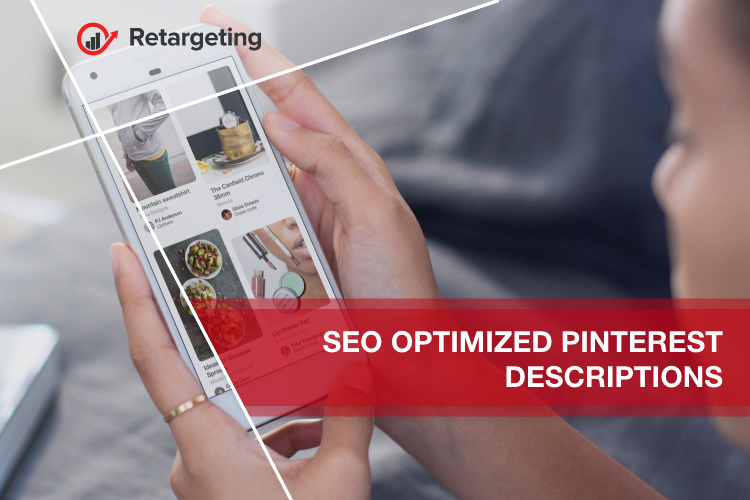 SEO optimized Pinterest descriptions
Search engine optimization (SEO) needs to be a part of your Pinterest for e-commerce strategy. When used right, Pinterest can send up to 7.53% of its traffic to your website. While referral traffic from a platform like Facebook is on the decline, Pinterest has seen more growth in referral traffic than any other social platform.
To generate as much referral traffic as possible, do some research to figure out what keywords your audience searches for. Once you have a list, create a keyword strategy for Pinterest that includes the types of images you'll pin and which keywords you'll use with each type.
Also, research and include one or two hashtags within your Pin descriptions. This increases the relevance ranking of your Pins and helps them appear higher up in your audience's feed.