Marketers continue to underestimate the effectiveness of an SMS campaign for marketing. It's not as sophisticated as mobile applications and developed mobile websites, but it's far more effective. Getting someone to subscribe via SMS is much easier than getting them to download a mobile web application with push messaging and the conversion rates are higher!
Text messaging is a great way to engage. You can offer value and build your brand reputation as your subscriber list grows. Text message marketing can be a powerful tool to connect with your clients and keep them coming back.
Key elements of an effective SMS campaign
Create a valuable offer: put yourself in your subscribers' shoes. Would you like to receive text messages from a business you love that are worthless? Without value, you're going to lose valuable subscribers that have given you premium real estate to promote to them.
Start with an offer: in the busy world we live in, it's important to cut to the chase to attract and keep every subscriber. If they think your message is a waste of time, they'll unsubscribe.
Include a direct call to action: let your subscribers know what the next move is. This way, they can act on, whether it's a discount code or direct link.
Create a sense of urgency: this helps you achieve results as quickly as possible. Your message should be sent when you want a subscriber to immediately respond.
Make the offer exclusive: it's important to make your subscribers feel as if they are part of something special. Text messaging has incredible open and conversion rate, don't waste it on generic offers.
Mention your brand name: it's not fun receiving a text message and not knowing who it's from. Make sure your subscribers know who sent the message. Not everyone programs every number into their contacts.
There's probably no marketing channel more direct and with better response impact than text messaging. But, bombarding customers with messages is likely to annoy them and would most likely result in a multitude of unsubscribes.
Every marketer has to balance their messaging frequency, overall volume and offers to ensure they're providing value to prospects.
It is crucial to establish the right balance between sending too many and too few messages. Too few and you'll fail to make a connection with customers, overdo it and they'll get annoyed and unsubscribe.
The value of subscribers
Customers acquisition is costly! Actually, is 7 times more expensive to get a new customer than keep an existing one. But after getting customers, consistent marketing is required to keep them subscribed. This requires further investment, but less them acquiring them. Remember, winning them ins one battle, keeping them is another.
Customers value goes beyond just the income from their subscription, they will most likely make purchases and spread the word about your business, potentially getting you other clients.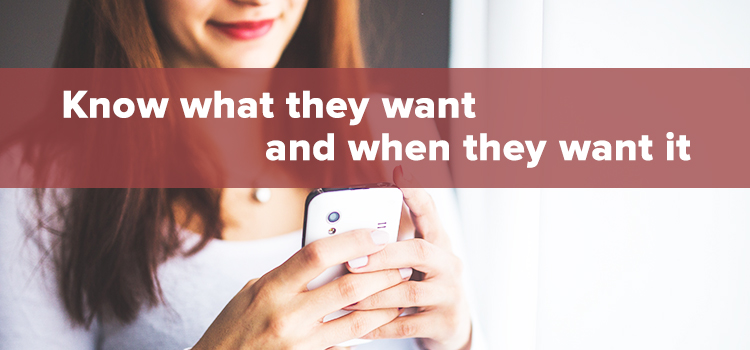 Know what they want and when they want it
Every message you send should add value for the customer, whether that's in the form of a discount, special offer, tip or notice of an impending sale. If each message has value, customers will genuinely look forward to receiving messages from you.
Ensure that your messages are properly targeted. there's no point in sending an SMS to someone about a product they are not interested in.
Find out which SMS elicited the highest engagement rates and time the sending to correspond with these, this way making sure that the message has the best results.
Establish key metrics and plan your messages accordingly
There are several important metrics that can be used to determine the ideal frequency for texting your customers, based on their level of engagement. Examine your open rates to see if you notice any trends like timing or subject line of messages.
Similarly, look at unsubscribe rates for any clues among former customers who opted out of messages you sent.
Another important metric is click-through rate on texts that included a call-to-action such as "buy now" or "click here". If a common CTA elicited a high click-through rate, let that dictate frequency and content of messages.