The hashtag has pretty much taken over social media. According to research, one lonely hashtag can increase engagement by 100%!
When it comes to social media marketing, hashtags are the key to your SEO and visibility of your content, and can be an essential component in building brand awareness across platforms.
Hashtags can also help you spark, search and unite conversations happening across the Internet, and can attract new followers to your accounts.
You don't need to overdo it with hashtags. In fact, tweets with a single hashtag tend to get 21 percent more engagement than those with three or more. Get started on your way to becoming a hashtag master by checking out creative ways to harness their power:
Start or continue conversations
The hashtag isn't meant to be used for every word in your post. The point of this little character is simply make content easier to find.
With a single hashtag, you can organize ongoing discussions, allowing different voices across social media to join in. This allows you to keep a steady stream of your content in search results so that even those watching can follow along.
Plus, consider that for every person you are directly commenting with on a social network, there are potential customers watching your conversation, hoping to gain insight.
Don't overdo it!
Just because you can use more than one hashtag in a message doesn't necessarily mean that you should. Most social media users see an overabundance of hashtags as nothing more than spam. While they can be an incredibly effective marketing tool, you may do yourself a disservice if you use them too frequently.
Typically, you don't want to use more than one or two hashtags per post, with one hashtag being the optimal choice. In addition, it will be important to avoid using them in every single post that you make, as social media users are wary of businesses trying too hard to promote themselves.
Cross-Promote!
Now that so many social media platforms use hashtags as a way to aggregate posts, you can also use them to cross-promote your content. Find a hashtag that represents your brand, product or service and use it on all of your accounts.
You may find that your followers will begin to adopt it as well. Harnessing the power of hashtags in your social media marketing also helps you see growth on platforms you don't engage with regularly. For example, on Instagram including just one hashtag can boost your engagement levels by an average of 12.6 percent.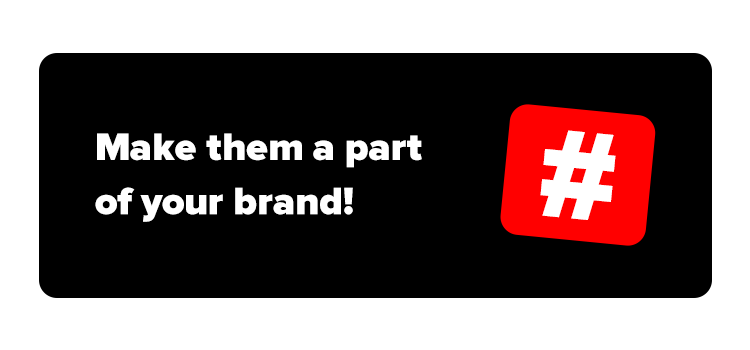 Make them a part of your brand!
Set up hashtags that encourage users to upload photos for the chance to be featured on your brand's profile or homepage. Getting your followers and fans involved in submitting content themselves makes them feel as though they are part of your brand, and also makes it easier for you to regularly update your accounts.
Ask for feedback!
Social media is a great place to get direct feedback from your customers. Set up a hashtag that reflects the kind of feedback you want users to provide and that is relevant to your brand, and then ask users to chime in with their opinions.
Also, be prepared for negative feedback. While this is useful for internal improvement, you don't want new customers to associate this criticism with your brand.
Follow the trends!
When all else fails, check out trending lists to see what people are talking about, and determine whether you can use that popularity to steer some traffic your way. You'll likely find that most of the trending items are topical, so make sure that your content still sounds authentic if you decide to jump in on a trending hashtag. Remember, trends come and go, so you may find that your topic is out mere minutes after you posted.