Nothing screams "Buy me!" to online shoppers more than these two simple words: free shipping. It's one of the most enticing offers you can give your customers and makes it an easy decision for them to buy. If you're not giving some serious thought to offering this benefit to your customers, you really should.
Offering free shipping is almost a guaranteed way to increase your conversion rate, and ensures customers leave your store feeling like they've had a positive experience. Nowadays, not only do customers want free shipping, but they expect it.
The mental game of free shipping
Shipping is a required cost of doing business online, which is partly why this "extra fee" is one that customers despise. It's that magic word of "free" that holds all of the power. It's like it suddenly gives them permission to buy.
Free is such a powerful word that customers would rather have something that is free than paying a tiny amount for it. Free shipping influences customer behavior at a deeply psychological level, and you can use this to your advantage in more ways:
Give them a choice

: Giving customers the possibility to choose between something free and the next cheapest option will encourage them to choose the free option, even if it means they have to add another item to their cart.

Perception, perception

: Customers have a strong positive emotional response to anything that is free. You can choose to offer product discounts, but many customers will value "free" more, even if the monetary amount is the same.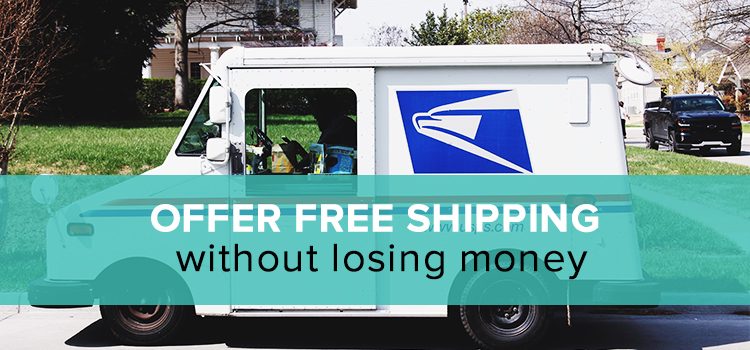 Offer free shipping without losing money
There are a few different strategies you can implement to ensure your free shipping offer is profitable.
By product type

: You can arrange for free shipping on certain products. This can be an option for businesses who have a smaller average order value but have some high-priced items for purchase.

Include shipping in the cost of the product

: Before deciding to go this route, you'll need to do some research on your industry, your pricing still needs to remain competitive. This strategy works best for niche and unique items with limited retail distribution.

Free shipping membership

: Many businesses are moving towards a membership model which offers free shipping for its members. It can be an option for those who want to limit free shipping to loyal, returning customers.

As an email promotion

: You can add this offer to a welcome sequence or place it in an abandoned cart email flow. It will help engage your visitors and further persuade them to act.

Create a shipping threshold: Adding a shipping threshold can help recoup some of your shipping costs as a direct result of the boost it gives to your conversion rate and average order value. Plus, it's a marketing tool to persuade your customers to add more items to their cart. The trick here is to ensure your threshold is set at the right number.
If none of the above options are good for your business, you should strongly consider a flat rate for shipping. Pricing out a flat rate for all orders, regardless of the quantity, can be enough to satisfy customers and get them to press the purchase button.
Test before implementing
The next step is to determine how well your free shipping offer is working. It's a good idea to roll it out as a promotion, rather than a policy to see if its worth it in the long haul. Here are a couple of options:
Test it out for 2 to 4 weeks

: This is a good amount of time to experiment and it will give you an idea whether your offer is attracting the numbers you want.

Avoid holiday and sales periods

: Don't run your promotion during holidays or busy seasonal periods to ensure your data isn't influenced by other cyclical business factors.

Monitor metrics

: Track your results from before, during and after the testing period to determine if the promotion is worth implementing as a policy. You'll want to look at average order value, conversion and abandoned cart rates.
Free shipping is a proven, powerful marketing tool that can boost your conversion rates and increase customer satisfaction. You just need to test and iterate to figure out what works best for your business and customers!