E-commerce SEO is unique. So you have to treat it as such! It's time to stop wasting time and start putting your efforts into SEO initiatives that will pay off. Here are some of the biggest mistakes about SEO for e-commerce.
Mistake 1: Technical SEO is your only focus!
This is one of the biggest reasons why online retailers and merchants get frustrated with SEO and stop optimizing.
For instance, there are e-commerce platforms where technical SEO is usually good right out of the box. Online retailers spend tons of money on technical audits, sitemap optimization, on-page optimization, to find out that their rankings have actually gone down.
Links are one of the two most important Google ranking factors. If you don't have any high-quality links pointing back to your site, it is really tough to rank on Page 1, because Google won't view your site as relevant, authoritative, and trustworthy.
In e-commerce, there are greater opportunities to win greater organic search visibility by focusing on creating and promoting content to build high-quality links, rather than technical SEO.
Mistake 2: You think category pages are not important!
Category pages are the best way to rank for more category-focused keyword searches than any other page.
If you do a good job categorizing your site, then you can optimize what you have on your navigation bar. Each one should target a group of keyword phrases.
To optimize each category page, you have to figure out the keyword groups. Then you can optimize the meta title, meta description, H1 tag, URL, and body content to optimize it for those target keywords.
Mistake 3: Reviews are not important!
Reviews are fantastic for the user experience, conversion rates, and e-commerce SEO. Big guns of e-commerce have done a great job of getting product reviews, which is basically free Search Engine Optimization.
If you have a strategy to get reviews on your products and they can be indexed by Google, then you can receive a tremendous value from having more content on your e-shop.
Searchers are also more likely to trust your content, buy from you, and stay on your page longer reading reviews.
Mistake 4: One size fits all attitude!
In general, there are two types of search intent in Google for e-commerce:
– research: Someone is looking to understand more about a product. Blogs are a good idea for these searchers.
– buy: Someone is ready to buy something. Product and category pages should be optimized for these searchers.
Optimize your blog content for people who are in the research intent phase. Help those people who are then ready to buy by adding links to relevant product and category pages.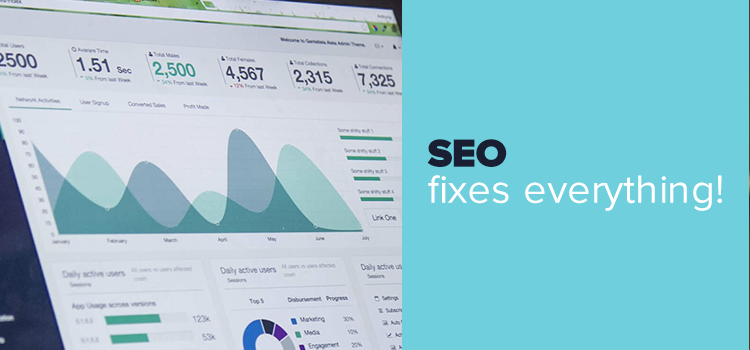 Mistake 5: SEO fixes everything!
If sales are going in the wrong direction, e-commerce SEO will most likely won't be able to save that business.
An e-commerce site with poor content and low engagement metrics will find it nearly impossible to rank well in organic search.
No optimization technique will help your content rank if it's worse than all of your competitors. And if your engagement metrics are going the wrong way, then you'll need to focus on usability, product offering, merchandising, pricing, and more.