For a long time, e-commerce was something conducted from computers and laptops at home, but more and more users are shopping online on the go, using cell phones and tablets. The increasingly mobile nature of the e-commerce market is set to be one of its defining features over the next few years with a steady rise, as well as an increasing number of web-based companies offering mobile-friendly versions of their site to encourage more users, regardless of their preferred browsing devices.
Online shopping has become a daily routine, that's why more and more people are purchasing stuff on the web. Naturally, e-shop owners wish to make their business attractive, but also extremely functional for customers.
Here are some trends in design that are proving to be a real help to businesses that adopt them in the year to come.
Bright Colors
2018 will be the year for bold colors online. Until now, brands have tended to stay more traditional and stick to web-safe colors.
The rise in bold colors in web design is said to attract the attention of the user, a huge change from the safer color palettes that we are used to. Expect to see more vivid and bright color palettes and brands becoming a little more creative in using them. Start-ups, in particular, will incorporate vibrancy into their branding with the hope of grabbing more attention.
Hamburger Menus
Hamburger menus have become an increasingly common sight across a variety of website types as they offer a convenient way to hide and reveal a menu as necessary, making the sites much easier to navigate for the user, particularly on smaller screens.
Hamburger menus are identifiable by the three horizontal lines that the user must tap or click on to reveal the underlying menu. They are simple, efficient, convenient, and save a considerable amount of space compared to a menu displayed within a frame.
Boxes
When it comes to e-commerce web design in 2018, boxes will not only continue to add functionality to a website but will play a big part in design too.
They should be visual and should be used for eye-catching call to actions. Also, they should help to spice up the overall look of the store and with some artistic layering can make a simple design look more complex. No matter the functionality intended for these elements, this will be a huge trend for next year.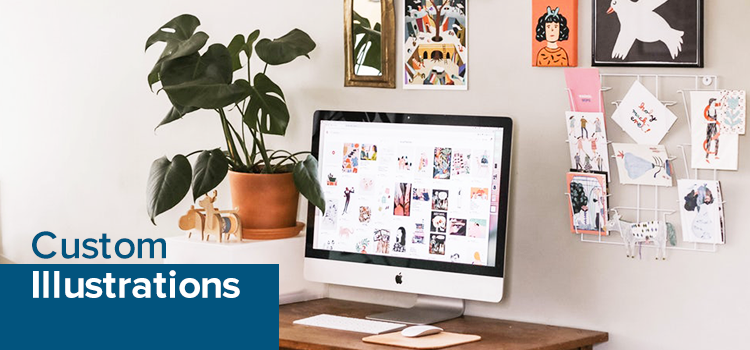 Custom Illustrations
Illustrations are a brilliant and versatile addition to an online shop. They are creative, friendly, visual element that helps add fun to a website. Unique styles of illustration can also be used to create an entire brand identity.
Try adding them into header images, custom iconography, bespoke fonts and animated visuals. Expect this to be a key trend for e-commerce sites in 2018.
Different Scrolling
As we already know scrolling is used for getting from the top to the bottom of the page. Traditionally, we've seen a large concentration on keeping the important content 'above the fold'. However, we're starting to see this old-fashioned design element disappear, with 'the fold' becoming more difficult to define. This has come about as a result of users viewing content on screens of all sizes.
It is therefore predicted that new styles of scrolling will be big for 2018. It'll be something that gets better and adds greater levels of interaction to the customer journey.
Video Takeover
A moving image automatically captures the attention of a potential customer. Although video is far from a new invention, it is an extremely versatile component, used for advertising, storytelling, and a modern take on photography. It is for that reason that video is fast taking over online. That's why video it is going to become an even greater trend for 2018.
Keep in mind!
In 2018, the focus will be on designing simple but powerful websites that are well optimized for mobile devices and heavily focused on user experience.
These sites will feature new types of formats, styles, and technologies. Is your brand ready for what 2018 has to bring?