Customers don't just use messaging apps, they prefer them because there are convenient. That's the point of conversational commerce: it allows people to conduct business on their platform of choice when and where they want.
And statistics back that up! A recent survey found that people would rather communicate with brands through a text message rather than email, phone or social media.
However, many brands are ignoring the channels that people most often use. Facebook Messenger has about 900 million active users and processes 60 billion messages a day. That's three times the global volume of SMS. Its Chinese counterpart, WeChat, has nearly 700 million users. Add other popular chat apps and you are looking at over 1.4 billion chat users, about 1 in 7 people on the planet.
What is conversational commerce?
Conversational commerce is an unparalleled opportunity for brands to build highly valuable and valued personal relationships with consumers and use this new-found intimacy to drive brand preference and affiliation.
Conversational commerce is about delivering convenience, personalization and decision support while people are on the go, with only partial attention to spare.
Let's say a customer types "I need shoes, color red." A chatbot and/or human provides recommendations, which are further fine-tuned through the conversation. When ready, the client clicks to purchase, receives an order confirmation and shipping notification, but also can return to that thread to follow up on the delivery status.
Gartner predicts that by 2019, mobile messaging apps will receive more requests for customer support than call centers and social media.
What are the advantages?
For merchants, these offerings are valuable because sales increase as customers communicate with and shop from their brand on more channels. Conversational commerce allows businesses to access a larger user base, and improve retention rates through improved customer service.
Chatbots can automate customer service messages and send shipping and delivery notifications and may resolve issues interacting with customers in real-time.
The next step in the e-commerce revolution!
As with any technology, rapid advancements are inevitable. Brands require the ability to experiment faster to be able to beat the competition.
Chatbots are unique software that uses Artificial Intelligence and natural language processing to comprehend commands and give appropriate responses or solutions. Conversational chatbots take it one step further by having human-like conversations, thanks to natural language processing — an advantage that has improved customer experiences manifold.
The combination of personal assistance with virtual shopping has been a ticket to high sales and better customer experiences. Of course, the bots will need to evolve and improve in order to keep up with expectations and pique interest. But as of now, chatbots are doing an excellent job revolutionizing the world of e-commerce.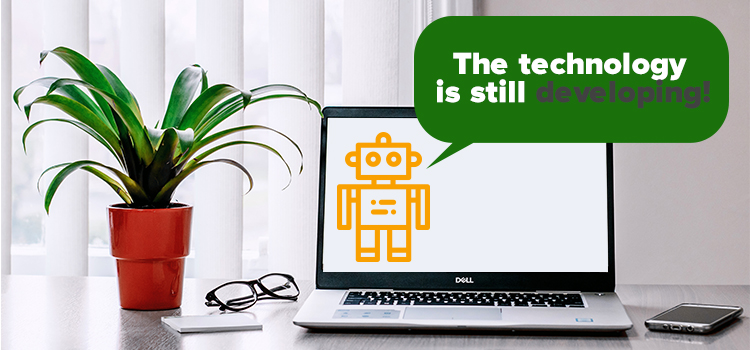 The technology is still developing!
You need to develop a relationship with each customer, a personalized experience that will strengthen the more a user interacts with the bot; this requires deep learning, in addition to natural language understanding, but it's still early beginnings.
According to specialists, the missing part is payments functionality. While customers can browse within a chat app, forcing them to go to another app or a website just to pay lowers conversion rates. But companies are overcoming these limitations with systems that can extend into conversational platforms.