To build a successful online business, you have to invest in your customers before they enter the buying cycle, while they are in it, and long after they've made a purchase from your store.
Whether you call it marketing or conversion rate optimization, at the end of the day, it's all about customer experience. Basically, it's how your customers feel about you based on the interactions they ultimately have with you. But why does it matter?
Because bad experiences can wreak havoc on an e-shop. Good experiences, on the other hand, can lead to boosts in brand awareness, website traffic, social mentions, and sales.
If you want to drive more positive interactions with customers and boost sales, you have to work on improving your customers experience. Here are a couple of simple ways to do it:
Offer solutions to problems!
Online consumers aren't buying products, they're buying solutions to their problems. They go online and search for ways to become stronger, better, healthier, happier, more productive. Improve customer experience by turning your brand as a trusted resource in their minds.
If you present them with real value, they will ultimately buy products from you. Why? Because you've built trust with them, and shown them that you care, that you are dedicated to helping them achieve their goals.
Commit to your social channels!
If you decide to create social media pages for your business, then you need to commit to participate on them. You have answer questions, share excitement with new customers, and yes, respond to unhappy customers in a public setting.
Take 15-30 minutes everyday to spend communicating with your followers and customers. Your goal should always be to respond to negative comments first. These are the ones that new visitors will see first and you only have one opportunity to make the right first impression. It's up to you to show people that you are willing to listen and help them when they need it.
Personalize your campaigns
Another way to improve customer experience is by personalizing your marketing campaigns. This tactic has become more and more popular over the past few years in e-commerce.
The goal is to remind your customers that the relationship already exists, and that you have a pretty good idea of what they want. It creates a better experience and the perception that you're thinking about them on an individual, personal level.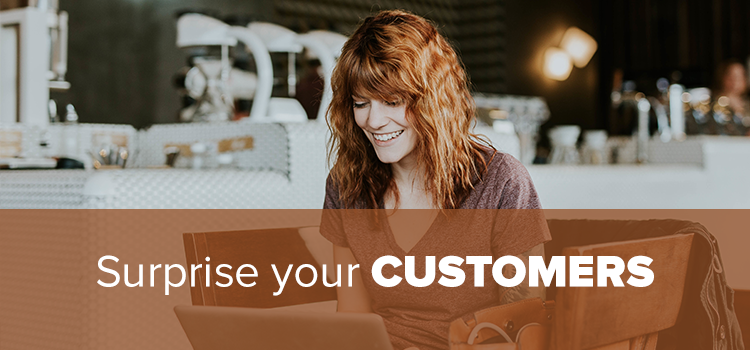 To distinguish from competitors, go out of your way to delight your visitors and customers whenever possible. Give them something extra in packages that you ship to them. They don't need to be expensive, just something that they can find when they open your products.
Offer exclusive promo codes and deals to make visitors feel excited and motivated to buy now, not later.
Ask your customers for photos or stories of themselves using your products, then post the images and stories on your social media accounts.
When customers are happy, they talk to other people about you. They share experiences that ultimately make friends and family to want to interact with your business and buy too.
Make navigation easy!
To improve customer experience and drive more people to convert, you need to create a seamless experience across all browsers and devices. More people are using their smartphones to shop online than ever before, so having an optimized mobile e-store is a must.
Also, you should work to make sure that the entire shopping experience is simple and easy to complete: shorten the number of steps from your homepage to order confirmation, simplify product pages and use copy that doesn't distract customers from buying.
Build more than a business
Create something bigger than your brand. Consumers want to interact with companies that support a cause, promote a way of living, offer a special community that they can be a part of.
When customers are part of a community, they don't just buy products, they become part of something bigger, more meaningful.
To build your community, start thinking about what your customers care about and how they use your products. Consider aligning with a charity or cause that customers can get excited about. Make it about your customers, not your products!