Would you like to automatically convert your website visitors into subscribers or better than that: into customers?
Well, Exit Intent Pop-ups can help you!
What is that? It is a pop-up that appears when your user signals the intention to close or leave the browser tab (your website). Then, he will stop for a few seconds and read your pop-up to see what you want to tell him.
It's true that these pop-ups can be annoying sometimes for your users and that's why you have to choose carefully your message and give them a good reason to take action.
So, let's see what could get your visitors engaged and what makes them stay more on your website and convert – reach your goals.
First of all, you should find out why are they leaving:
The information on your website was irrelevant;
They didn't find the products they were looking for;
Your products were too expensive;
Your product doesn't fit your customer's needs;
They were distracted;
And the list can go on because when we are talking about customer behavior there can be a plenty of reasons.
We know that you are happy when you grow your website traffic but how do you feel when all those visitors are not converting? What are you doing to gain them back? A, nothing? Really? Well, let us tell you that you are leaving money on the table… You should talk to them right here and right now when they are on your website! Don't let them go away as simple as that!
As we said before, exit intent pop-ups can do that for you. You can talk to your IT guy to create this kind of pop-up or simply use a retargeting software that could help you communicate with all your website visitors, based on their actions.
Now let's talk about what kind of exit intent pop-ups could you use. You have various options, but it depends on what are your goals, what problems you want to solve by using an exit intent pop-up.
Let's take it step by step…
1. Do you want more subscribers on your list?
Maybe you have a "special" place on your website for your newsletter subscription, but do you think that's enough? We hope that you are not thinking: well, if someone wants to subscribe, he will find my subscription box… Please… As we keep saying in our articles we all need some incentives. You don't have to be aggressive, you just have to push a little bit.
Here are some newsletter subscription examples: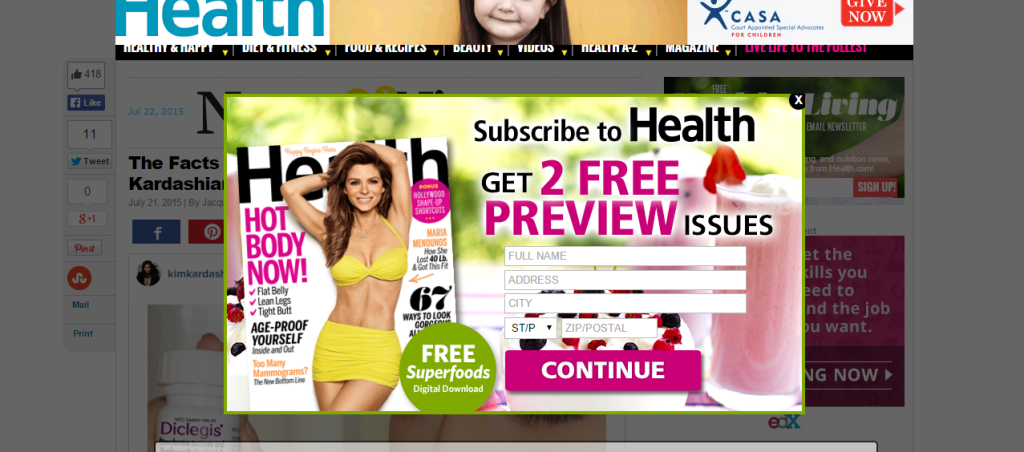 2. Do you want to give them a discount on their first order?
You can make your first-time visitors happier than you thought by giving them a discount on their first order. Trust us, they will be happy to find this kind of message on your website. It can impulse them to make the decision right now.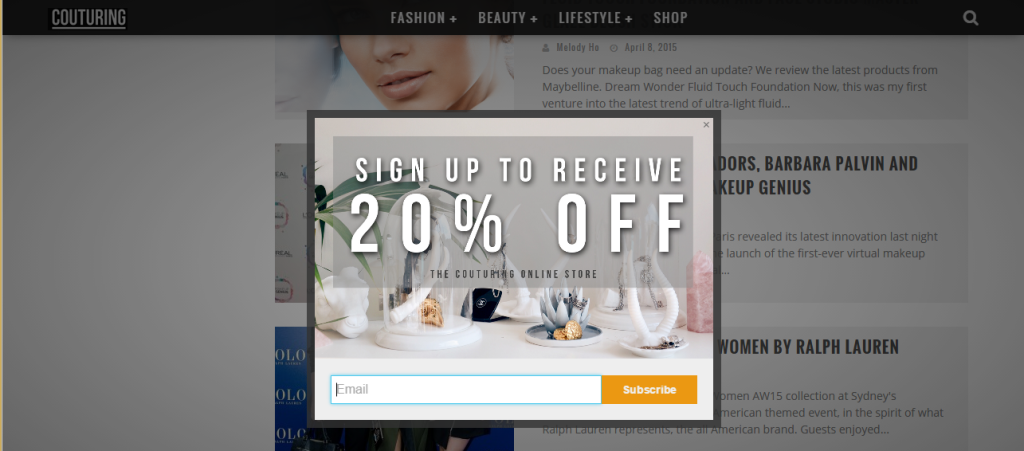 3. Do you want to save your abandoned carts?
Yes, we already know that this is a big problem for online stores. The experts found some reasons why people leave products in their cart without doing any purchase. We've already mentioned some of them in one of our trigger's description (Cart Abandonment): Some of the main reasons for this user behavior are because they were just browsing, they were presented with unexpected costs, found a better price elsewhere or they found the overall price too expensive.
Here are two ways to remember your visitors that they've left some products in their cart and no placed order:
Via email: if they are already your subscribers and you have their email address
Via exit intent pop up: if you don't have their email address you can use this kind of trigger – Live Cart Saver. This helps you engage with your customers right when they are on your website.
Here is an example of cart abandonment pop up from a fashion store:
There are so many reasons you should you use an exit intent pop up. We gave you above three examples for the most common goals: more subscribers, gaing new customers, save car abandonment.
But here are some other ideas for exit intent pop-ups:
Announce a big contest on your website;
Make a pre-sell;
Invite your visitors to a webinar/event;
Present some promotions;
Recommend them some of your products.
Now that you find out how great are these exit intent pop-ups, you can complete this list with your own goals.
Tell us, how would you use the exit intent pop-ups for your website?
Sources: 
– https://blog.kissmetrics.com/capture-email-leads/
– http://blog.crazyegg.com/2014/08/18/opt-pop-ups/
– https://blog.gleam.io/exit-intent/
– https://blog.gleam.io/ecommerce-list-growth/
– http://blog.getrooster.com/
– http://conversionscientist.com/online-sales-conversion/7-best-practices-using-exit-intent-popovers/
Photo credits: 
– http://news.health.com/
– http://manybooks.net/
– https://blog.gleam.io/ecommerce-list-growth/