As hard as it might be to admit this, the holiday is over and we need to get back to our marketing things, because after all, that's what we do here. 2015 was a great year from a lot of point of view, allowing us to jot down a few trends and see what strategies worked better in various situations.
Before going Bridget Jones and making resolutions for the New Year, we'll look a bit in the past and talk about some of the most popular and creative email marketing campaigns we've seen in 2015.
So… Top 5 Email Marketing Campaigns in 2015
PayPal
There's a reason why these guys are one of the world's top payment processors: they can go very creative with their email marketing strategy, as show in the example below.
A short and clear copy, revealing the benefit of using their service. After all, we've been in this situation and sometimes, using such a service can settle an issue like splitting the bill easily.
In the email, PayPal users are shown how easy it is to send money, just using your smartphone, in three simple steps. Hey, competitors, see what these guys are doing? Watch and learn and you might have a chance at gaining some extra subscribers.
RunKeeper
Fitness apps are getting more and more popular nowadays and RunKeeper is already there in the top. Still, this doesn't mean that they will stop trying to attract more users and keep the ones they already have.
Since the basic app is free, their main purpose is to make as many people as possible buy the Elite Version, while the ones who already have it should renew their subscription as soon as it expires.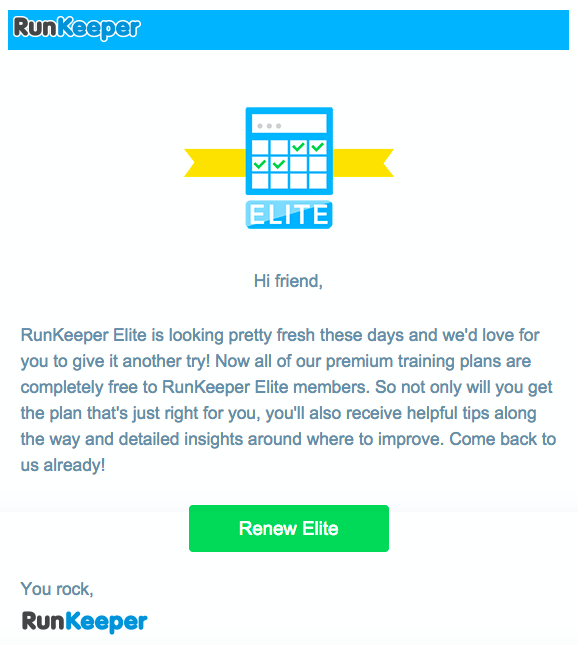 In order to achieve this, the email they send emphasizes the most recent changes and benefits, while the copy has a very friendly approach. Also, inclusions like "friend" or "you rock" make everything sound as appealing as possible and less aggressive in terms of sales.
Bonobos
When engagement is the thing you're after, this is one of the best way of doing it. Through a clean and simple design, Bonobos makes it easier to buy short for anybody who doesn't have enough time to browse their website.
Simply select the size, apply the discount code they're offering and you're good to go. A seamless shopping experience? Well, this is how it looks like.
Jack Daniel's
When you're a brand like Jack Daniel's, you don't need to convince people that your product is good. Still, things change a bit when you're introducing a new product, especially if it's a relatively unusual combination between spirits lovers.
When the new Jack Daniel's Tennessee Honey was launched, they opted for a fun email campaign. The subscribers were seeing a full image, where they could find more details about this very interesting type of whiskey.
The company's Facebook page was also linked, in order to obtain as much feedback as possible from subscribers.
Jaybird
Even though they might be a name known just between tech fans, Jaybird makes the best Bluetooth sports headphones on the market, alongside earbuds and activity trackers.
When their top of the line headset, Jaybird X2, was launched, they have used a relatively simple design with a clear tagline: The Perfection of Wireless Sound.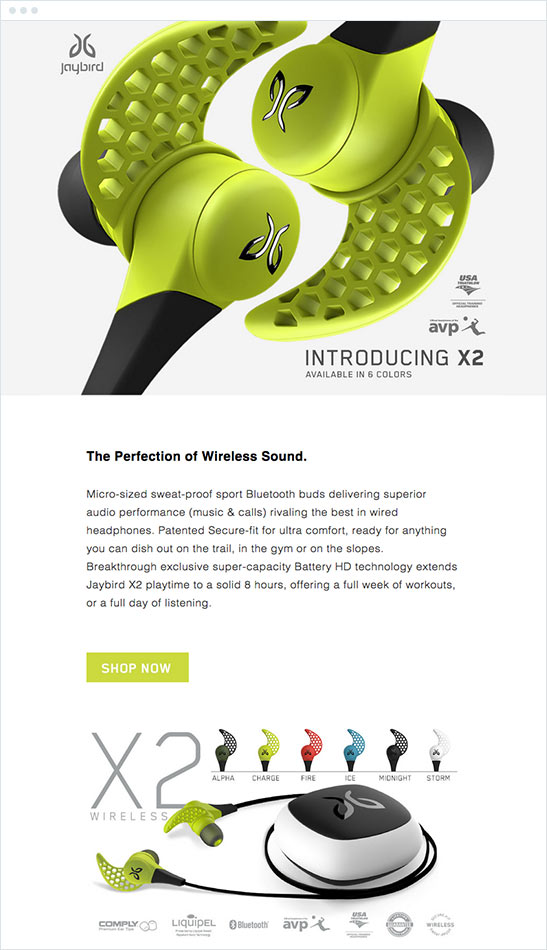 Focusing on the key features of the headphones, the email was also inviting subscribers to buy them, through a dedicated button. As a side note, if you have $180 to spare on these babies, go for it, as the sound quality is more than just excellent!
These were just a few of the best email marketing campaigns we've seen last year and, like always, we want to hear your opinion. If you know other great examples, feel free to share them with us, using the comments section below!
Sources:
http://blog.hubspot.com/blog/tabid/6307/bid/32854/10-Simply-Awesome-Examples-of-Email-Marketing.aspx
https://www.campaignmonitor.com/best-email-marketing-campaigns/announcements/jaybird/
Photos:
http://cdn2.hubspot.net/hubfs/53/PayPal_Split_the_Check.png?t=1452202289662
http://cdn2.hubspot.net/hubfs/53/RunKeeper_Reengage.png?t=1452202289662
http://cdn2.hubspot.net/hubfs/53/00-Blog-Related_Images/Bonobos_Shorts.png?t=1452202289662
https://i3.campaignmonitor.com/assets/images/gallery/casestudy/marketing-offers/jackd.jpg?ver=6716
https://i3.campaignmonitor.com/assets/images/gallery/casestudy/announcements/jaybird.jpg?ver=6716
https://opensource.com/life/15/8/top-5-august-28