We already know how important recommendations are for all of us, no matter what we are talking about: products, services, people, places, beauty, health, animals.
This fits perfect to ecommerce businesses and they already know that, especially the first example we give you: Amazon, because it seems like more than 60% of it it's devoted to recommendations.
Online shops use these because they know it could help them gain customers, increase revenue, improve conversion rate and boost the average order value.
Today we will talk about recommendations from two different perspectives: for those who already bought something from your website and for those who aren't your clients yet, for different reasons.
1. They already bought something
In this case the recommendations are based on the purchase habits of a group of customers and you may see them with messages like: "you might like", "your friends liked" and "other people who bought this also bought".
The recommendation engine observes your visitors' shopping behavior, for example pages and products they visit, what they are searching for, what they add to cart or their previous purchased products and they link this behavior to past decisions of other people with the same profile .
Ecommerce sites found different messages to integrate recommendations in their website:
– www.junarose.com – Wear this with
This clothing website, JunaRose is giving you some recommendations for the same products but different models, so you can choose which one fits better to your taste.
– www.asos.com – You might also like
The well known asos uses models to present its products, so the customers can see how those products may look on a real person. Asos variates its recommendations: sometimes they use products from the same category – if you choose a skirt, then in the suggestion area you will see only skirts, or they combine them – if you choose a dress, then they will show you a nice pair of sandals.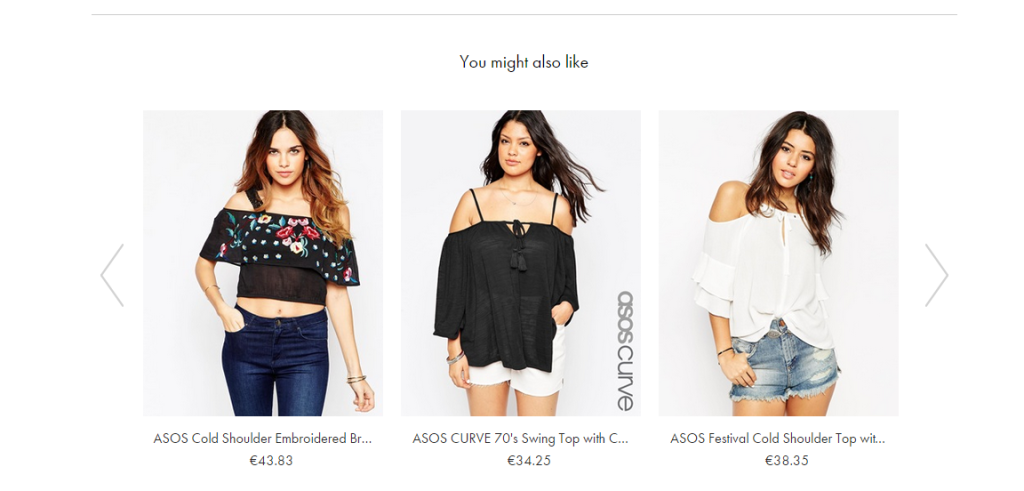 – www.hm.com – Style with
H&M has two different types of recommendations: if you choose to shop a product from the  main list you will see the window below with a small message: Style with.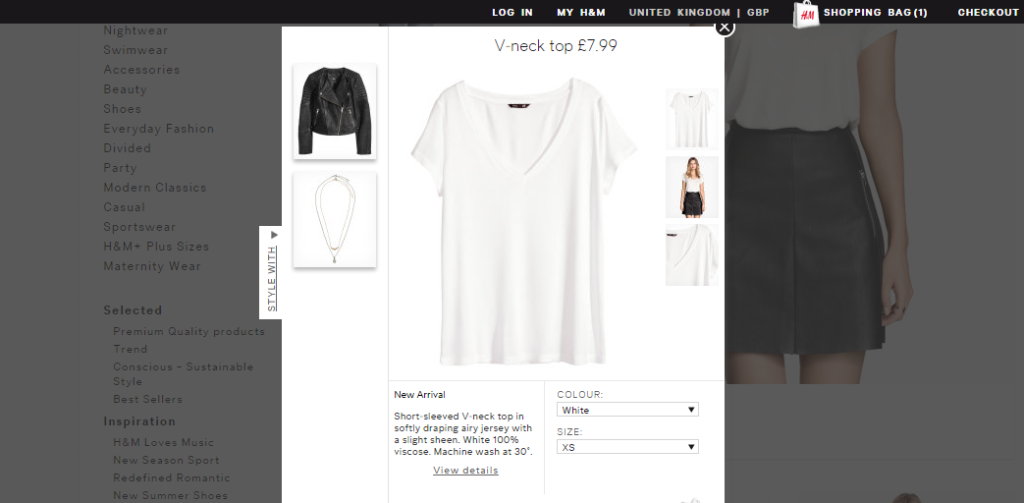 But, if you will go on your favorite product's page and then add it to your bag, you will receive two types of messages at the bottom of the page: Style with and Other also bought.
– www.bensherman.com – We recommend
BenSherman.com has the same strategy as JunaRose and they show to their visitors only products from the same category. They are not trying to convince you to complete your look by giving other products.
– www.burton.com – Questioner – Your Results
Now this is a special one. Burton.com recommends you some products based on your answers. They give you a questioner and at the end of it you will receive Your results. That's funny because, they are not guessing, they go for sure!
Some pretty simple questions to find out more about what you want and then you have… Your results!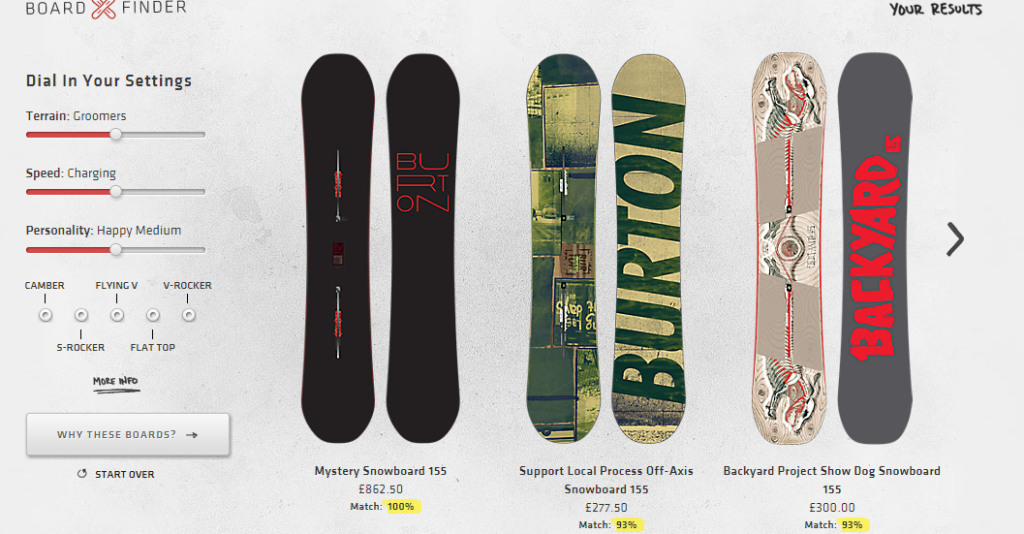 And now world's first example when it comes to recommendations: Amazon. They try to sell more, in different ways, with different messages – text and position, all on the same page!
– Frequently bought with
– Your Recently Viewed Items and Featured Recommendations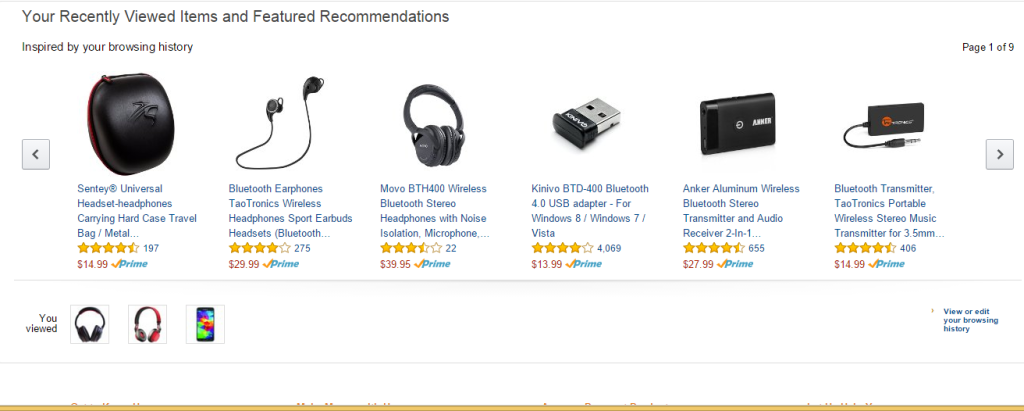 – Customers who Bought Items in Your Recent History Also Bought:

2. First visit on your website
In this case you have two possibilities to present your recommendations:
show them most purchased products on your website: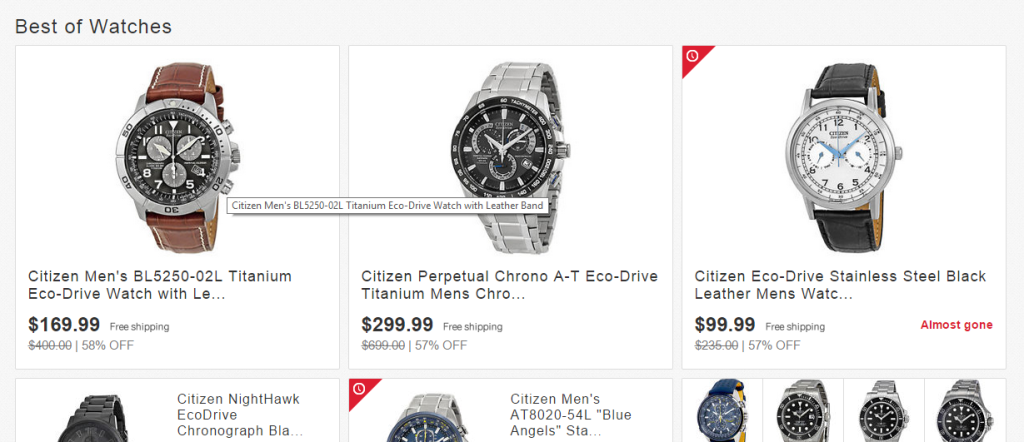 identify the product with the highest chance of acquisition.
The more options you give them, the more undecided they become. But you have to try to turn this kind of visitors into an opportunity: turn a lost order into a placed order.
Find out what your visitor's favorite product is and then make him a special offer, for his special product. He will not only buy that product, but he will also start loving your business.
By doing this, you'll give him a little incentive and you have all the chances to turn that visitor into a customer because you can convince him with this live product recommender.
You can find out what they want based on their browse behavior by using a marketing automation software.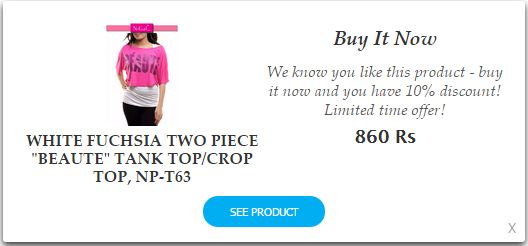 Now that you find out about all these possibilities you have, start to create your own message for your products recommendation.
Stop loosing money! Gain customers and increase your revenues!
Do you have any product recommendation on your website? Great! Share with us your success!
Here is another secret we want to share with you: Why your product page isn't selling…
Sources: 
– https://econsultancy.com/blog/61928-six-different-approaches-to-online-product-recommendations/
– http://www.practicalecommerce.com/articles/1942-10-Questions-on-Product-Recommendations
– http://unbxd.com/blog/best-practices-placing-product-recommendations-ecommerce-sites/
– https://gigaom.com/2013/01/29/you-might-also-like-to-know-how-online-recommendations-work/
Photo credits: 
– http://content.monetate.com/h/i/12311883-maximize-online-sales-with-product-recommendations#axzz2IdJfsKau
– http://junarose.com/
– http://www.asos.com/
– http://www.hm.com/
– http://gb.burton.com/
– http://www.amazon.com/
– http://www.bensherman.com/
– http://www.ebay.com/